Why did you decide to teach abroad in South Korea with Footprints?
Tabitha: I chose to use Footprints Recruiting because of their good reputation, assisting teachers to obtain a position within Korea's formal education system. I was most impressed by their process, which included a preliminary interview that is completed online, followed by a telephone interview with one of their recruiters (who also provided you with more information about teaching in South Korea), and an opportunity to ask any questions you had in real time. I also liked that their recruiters had experience teaching abroad, and that their website was user-friendly and informative; specifically, it contained step-by-step information about the application and hiring process. At any time, I could go on their website and figure out how to get all of the required paperwork done and if I had questions, I would send an email and get a reply in a timely manner.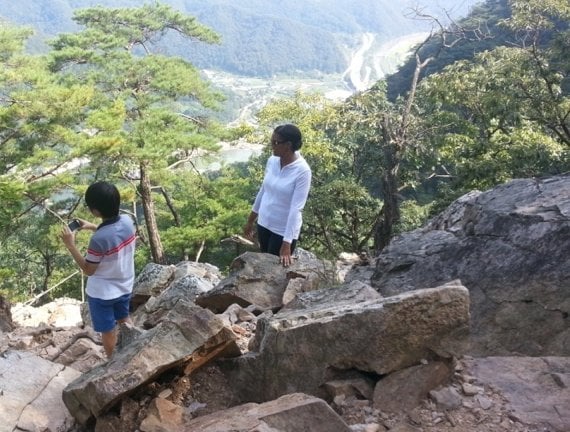 What made this teach abroad experience unique and special?
Tabitha: This experience has been unique and special as I am doing something that I have always wanted to do. More specifically, I get to immerse myself into a society and culture that is different from the one I was socialized in, while helping students on their path to success. While I teach English as a Foreign Language, I am a sociologist at heart and I enjoy learning about different societies and cultures, social institutions, and the interactions that occur with them. Here, I get to fulfill some of these interests in addition to traveling within and outside of the country. Another reason I consider this teach abroad experience unique is that I have met and made a social circle of friends, made up of people from different parts of the world and different backgrounds who have become like a family to me here.
How has this experience impacted your future? (Personally, professionally, etc)
Tabitha: Personally, this experience has made me realize how much I enjoy slow travel and I do not wish to stop. While I greatly miss my family and friends back home, I really like living overseas. Travel has changed me in many ways that I can't imagine going back to my American lifestyle anytime soon. I just keep wondering how strange it is going to feel when I go home to visit. Yet, I am ready to see my family, eat my mother's cooking, and go on a food tour of my favorite restaurants, but I know I will experience some reverse culture shock; my life here in Korea versus in the United States often feels like night and day.
Professionally, I have been challenged as a teacher, specifically on how to create interesting lessons that will challenge students to engage in constructive conversations. Academically, I have further developed an interest in language barriers and the challenges that non-native English speakers encounter when learning and studying for classes conducted in English. I've also developed an interest in the English-language learning phenomena in Asia; specifically, whether it is a new form of colonization or an actual representation of globalization, and if so, what are the consequences on non-native speakers' culture (tapping into my sociological imagination)?
What is one piece of advice you would offer to someone considering teaching abroad in South Korea?
Tabitha: I strongly suggest taking the time to do as much research as possible, including reaching out to others who are currently teaching in South Korea. Also, I think it is important to make a list the reasons you wish to live and work in South Korea. Literally, weigh the pros and cons and be honest with yourself. While many come and like it a lot and even stay here for years, there are some who dislike it here. I think the key for those who enjoy it is that they are adaptable and flexible. These are very important qualities to have when packing up and relocating to another country that isn't anything like your home country; you will have to find a new normal, cultivate friendships from scratch, and perhaps work through a language barrier.