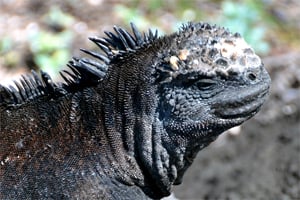 Morning: A typical morning involved waking up between 6:30-7:00 a.m., dressing, and heading to the dining area where meals were served family style. I ate a lot more at breakfast than I normally do, but I don't usually do as much physical labor as I did in Galapagos.
Breakfast often included fruit, hot or cold cereal, bread & butter, and lots of fresh fruit juice. At 8:00 a.m. the group met, received instructions about the day's plans, and then either walked or was driven to the work area. We worked till ten-ish, then took a break (which also included a snack).
Afternoon: Lunch was served at noon, and then there was another hour or so of free time until we went back to work. The work included various tasks while I was there: slashing down invasive blackberry ("mora") with a machete; planting coffee, collecting fruit, and collecting yucca for replanting. We also picked coffee beans, washed and hulled them, and prepared them for drying.
Everyone was invited to sign up for kitchen duty, which excused him/her from working in the field for that part of the day. Kitchen duties included preparing fruits and vegetables for meals, squeezing juice, washing & drying dishes, and serving. There was always plenty of food. Yadira, the cook, was wonderful to work with--she was very good-natured and a lot of fun to speak Spanish with.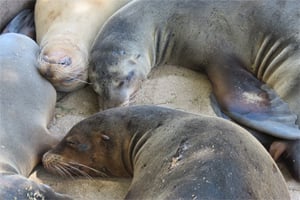 Evening: A typical evening (for me, but not for most) was spent having dinner, cleaning up, and then retreating to the balcony to read, write in my journal, or socialize with other volunteers. Neighbors have set up an informal bar about 15 minutes away and it was a popular spot. There's a pool table there, and lots of room to dance. The night I went I played cards and enjoyed myself... but it wasn't part of my nightly routine. I went to sleep fairly early because I was pretty beat by the end of the day.
Highlights: The highlight of my trip was meeting a lot of good people, both in Quito and in San Cristobal. In Quito, I spent about one week with a family whose daughter works for Jatun Satcha. They were wonderful: very warm and welcoming, helpful, and generous. I would not have enjoyed Quito and Otavalo as much had I not been staying with Geovanna's family.
The other highlight was seeing the giaint tortoises. I work in a national park and see a fair amount of wildlife. But being able to see the tortoises as close up as I did was amazing. There were other animals I was excited to see: pelicans, sea lions, blue-footed boobies, crabs... but somehow the tortoises really made the trip seem over the top.