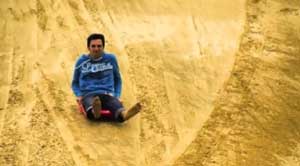 What did you study?
Nick: Information Technology!
What do kind of internship do you do?
Nick: I am working for a great corporation that focuses on business continue and disaster recovery. So my company looks after other business and supports them in the prevention of disasters and development of aftercare procedures.
What kind of duties do you have in your internship company?
Nick: My main tasks is to develop a business continue plan so that in case something goes wrong other companies can keep on operating and functioning. Admittedly this task is very challenging since it involves many aspects I have to consider like "What to do during a fire emergency"?
How did you find this internship?
Nick: I was browsing through the internet and landed on New Zealand Internships website. There I saw the job description and the vacancy sounded really interesting to me as this was a whole new field of IT I knew nothing about. So I just came to NZ and wanted to see what other opportunities there are in the field of IT. If you want so, I broadened my horizon and I have to say that I like it very much!
What did you liked the most here in New Zealand?
Nick: That's not hard to tell. Definitely skydiving! When I jumped out of the plane and was rushing towards the beautiful area of the bay of islands, that was a wonderful feeling I'll never forget.
Can you describe your stay in New Zealand in one word?
Nick: Yes easily, "Awesome!".