Why did you decide to teach abroad with ImmerQi?
Cara: ImmerQi is a great way of introducing you into the world of teaching abroad. I chose this company as I've always wanted to explore China and and being able to teach English was a way to stay there longer and to give me an (albeit small) allowance to survive on.
I was apprehensive about teaching English as I had no experience at all in the that department and wondered if I would be any good and even liked it. Luckily for me, I do enjoy teaching and also feel a lot more confident now standing at the front of a classroom. I have even decided to stay with the company for the next semester as they are a great support network for me.
If I could do-over one thing, what would it be?
Cara: If given the chance to redo this internship, the only thing I would change would be my commitment to learning the local language, Mandarin. At my school, the other interns and I, would have 90 minutes with a Chinese teacher to teach us some basic Chinese. These lessons were optional and for some reason I decided to give up after a pathetic 3 weeks and I really wish that I never did.
The lessons were completely free (thanks to ImmerQi and my placement school) and I should of taken advantage of them. I can manage ordering food and some haggling but that's about it and if I wanted to have a conversation with a local then I would definitely have to rely on google translate!!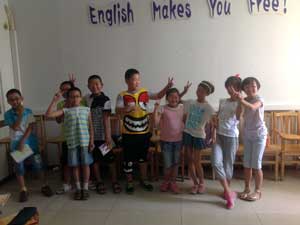 What is the one piece of advice you'd give future ImmerQi students?
Cara: My one piece of advice would be to come with a completely open mind. China is very different to western cultures which, in my opinion, makes it so great to come here. On the application form you can choose your preferred region and age range you would like to teach but that doesn't 100% guarantee it.
I know a few people didn't like it at first but after the first initial thought of "oh my god!! It's freezing!!" (It was -15/-20 for the first 2 months where I was placed) they loved it and never regretted anything and yes, it did eventually warm up.
I would say that if you didn't like it, give it at least a month before you decide to move elsewhere. Also bring a backpack not a suitcase, there are a lot of stairs!!
How has this experience impacted your future?
Cara: I feel that after doing this internship I am actually capable of teaching English and because of this, I can travel and teach all over world. China is a country where everyone seems to leave everything until last minute and as I'm a big planner this was (and still is) a challenge for me.
I realise that I have to "go with the flow" when it comes to making any sort of travel plans in China but I am more resilient than I once thought and anyways, I am still learning to adjust to the Chinese way of living. It doesn't happen overnight.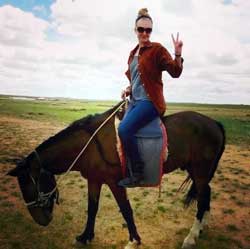 Tell us about any interesting cultural tidbits you noticed about your country?
Cara: China is full of different and interesting cultural quirks and here are a few:
- Anywhere near a road you will hear a car using its horn. In China it's more of a way to let another car user know that it's overtaking them or just to basically tell them "Hello, I'm near you!"
- They spit. A lot. At least it's not on you though!
- They love sweet food. And I mean any sweet food! They even have sweet bread here. You should probably get a dentist checkup after being here.
- One of the biggest Chinese customs is haggling and they love it but you probably will buy something overpriced.
- If you're a foreigner in China, then be prepared to feel like a celebrity. The amount of photos taken of you will be endless! Enjoy it while it lasts.
- These are all the joys of being in China and just remember to have some humour about it all.