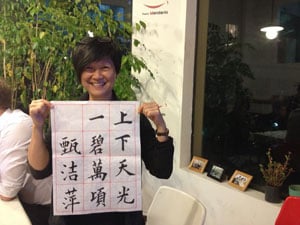 Joanne: I found out about That's Mandarin while researching schools in Shanghai. I was fortunate enough to have had my parents visiting my sister in Shanghai and they popped in and checked out a couple of schools for me. That's Mandarin was slightly more expensive than the other one but definitely more professional.
I started early August as an absolute beginner and am nearing the end of my studies, having almost completed four months. I can now confidently say I can order food in a restaurant, ask for something in a shop, I can hold a pretty decent conversation in Mandarin, I've even been asked to help translate for someone.
I am surprised by how much I've learned. I could've studied Mandarin in Sydney, Australia, but being immersed in the culture and having to speak "daily speak" has helped enormously. The teachers and staff at That's Mandarin are fantastic, absolutely patient, always helpful and forever smiling, they like you to practice your newly acquired language so constantly speak to you in Chinese.
A definite 'must do' is to participate in the cultural events every Wednesday evening, it's a chance to meet other students, practice your Mandarin, learn new skills such as calligraphy, Chinese chess, making Chinese dumplings, learn to speak Shanghainese (very different from Mandarin), play mahjong, Chinese craft, paper cutting, making moon cakes!!
This has definitely been an opportunity of a lifetime for me, I now return to Sydney in the hopes of using Mandarin for my work in real estate and definitely enrolling into an intermediate course to continue improving on what I've acquired.
I would highly recommend this course to anyone who is looking to study Mandarin, I have certainly had a lot of fun, though it's not easy (lots of studying), met lots of people from different walks of life but most importantly, learned to speak Mandarin.