Morning: A typical day in Morocco consisted of waking up around 7:30-8am, having breakfast with the other volunteers, and then heading off to our placements. I volunteered at a children's hospital for the first few weeks, and then at the Lala Meryem orphanage for the remainder of my time there. We would spend a few hours at our placements and then return to Homebase mid-afternoon for lunch.
Afternoon and evening: After lunch we would sometimes have cultural activities planned, these consisted of such things as Moroccan cooking classes, trips around Rabat to historical/tourist sites, Arabic lessons, etc. However, we were often quite exhausted after our placements and would either just relax around Homebase with the other volunteers or go out around Rabat on our own (often to the central market). The Moroccan staff that we lived with was always very happy to teach us anything we asked them, hence an afternoon cooking lesson on how to cook beignets (French donuts)!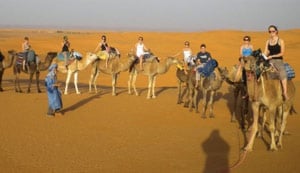 Highlights: The program is very flexible and we were given the option of going to a second placement in the afternoon if we wanted to. Additionally, I switched my placement halfway through simply because I wanted to see what the orphanage was like. One of my fellow volunteers also created her own placement while we were there because she stumbled upon a great opportunity.
During the weekends we traveled around Morocco in individual groups. We went hiking in the Rif Mountains, went to Casablanca, had a relaxing weekend in a beach town, went to Marrakesh, and Fez. My favorite, and most memorable, weekend excursion was a camel trek through the Sahara Desert where we camped in Bedouin tents.