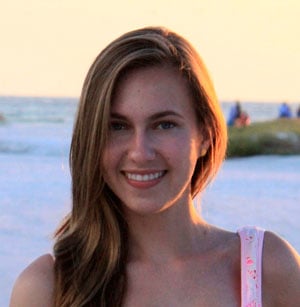 Why did you pick this program?
Kate: I chose IES Abroad's Language and Area Studies program in Freiburg, Germany because they offered a semester program that focused on language immersion. My German professors also highly recommended this program, as did other Northwestern students that I talked to.
What is the most important thing you learned abroad?
Kate: I learned a lot about myself during my time abroad. I gained a lot of independence and confidence in myself. The most important thing that I took away from my semester in Germany was the knowledge that I could take care of myself in a different country using a foreign language.
What do you tell your friends who are thinking about going abroad?
Kate: Going abroad is an incredibly important experience. It allows you to experience and travel the world, as well as learn how to adapt to a new culture/way of life. I think that everyone should study abroad in college because you gain so much independence and self confidence that will be important for the rest of your life.
The thought of going abroad may seem scary and you may not want to leave your home university for a semester, but it is more than worth it and you will be back on campus before you know it and surprisingly little will have changed there since you left.
What was the hardest part about going abroad?
Kate: The hardest part of going abroad was the 'fear of missing out' at my home university. Leaving my friends and the comfort of Northwestern for a quarter felt really hard and I didn't want to miss anything. It was easy to feel as though I was missing out because of nearly constant access to Facebook, Instagram, etc. However, my friends haven't changed and not much at my university has either. Instead, I gained so many once-in-a-lifetime experiences from my semester abroad.
What made this experience unique and special?
Kate: My roommates made this experience unique and special. I lived with five roommates, four Germans and one Italian. Our dorm had a communal kitchen and living area, which had a TV. We spent a lot of time in there talking and hanging out, and I got to learn a lot about them and their lives. My German also improved immensely and ultimately all of my roommates became my really good friends.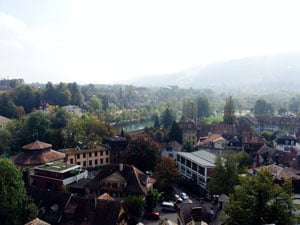 What is one piece of advice you'd give to someone going on your program?
Kate: Spend as much time as you can with your German roommates. It is easier to spend time with the people in the program because you see them during classes and it is more comfortable to be with them because they speak English.
However, what turned my experience from a good one to a great one was becoming friends with my roommates. It was uncomfortable at first because of the language barrier but after spending enough time with them it became much easier and I can now say that I have four great German friends.