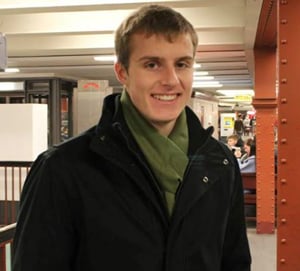 Why did you pick this program?
Peter: Since day one of my Freshmen year, I knew study abroad was one of my biggest priorities. I took several years of German in High School prior to coming to the University of Rochester and so studying in Germany for a semester was always a dream of mine.
The two school sponsored programs in Germany through UR were either IES Abroad Freiburg or IES Abroad Berlin. While Freiburg would have been a very different and unique experience, I wanted the big city environment. I had hear great things about Berlin and it definitely met and exceeded my expectations!
What is the most important thing you learned abroad?
Peter: The most important thing I learned while abroad was being able to adapt to new and sometimes uncomfortable circumstances/situations. Berlin was a totally different environment for me starting from the language spoken to the cultural differences, and so being able to adapt to these differences was important for me to be able to make the most of my experience in Berlin.
I think living at a homestay with two German students really helped me adapt to the change. After being in Berlin for about a month or so I started to feel really comfortable with the city and the language and it made the experience that much better.
What's your favorite story to tell about your time abroad?
Peter: The best thing about being abroad was being able to speak German day-in and day-out with native speakers. That being said, because I am not a native speaker of German, I experienced plenty of hilarious language misinterpretations/misunderstandings. One of these misunderstandings is probably my favorite story to tell about my time abroad. When it neared the end of the semester in December, the IES Abroad Berlin staff put up Christmas decorations in the IES building.
One day, a few of us were in the IES center talking to Rolf (one of the staff members) and another IES student asked him where the Hanukkah decorations were because she was Jewish. She asked him in German "Wo sind die Hanukka Dekorationen?" and Rolf responded with a very confused expression on his face.
Long story short, Hanukkah is pronounced slightly different in German and the way that it is pronounced in English sounds a lot like Honecker, who was the former president of East Germany. Hence, Rolf thought we were asking about where the former president of East Germany decorations were -- great language misunderstanding!
Tell us about an experience you had that you could not have had at home.
Peter: While I was in Berlin, I applied through the Humboldt University language center for a language partner. I sent emails out to various students living in Berlin who were looking for a native English speaker to improve their English with, and I ended up finding two different language partners.
The idea was that it would be a language tandem since I was looking to improve my German and they were looking to improve their English. I ended up meeting and becoming friends with a student in Berlin, who was actually Russian, but had moved to Berlin when she was about 10 yrs old. She speaks both Russian and German and was trying to improve her English by speaking with me. On Halloween she invited me to her apartment and her Mom cooked traditional Russian food for us which was delicious.
Since her Mom only speaks Russian, I was speaking with my language partner and her father in German and English and she was translating for her mother into Russian. That was such a cool experience with all sorts of languages and cultures, and it is definitely something that I could not have experienced here at home.
What is one piece of advice you'd give to someone going on your program?
Peter: Don't be afraid to speak German! The first 3 weeks or so I was super nervous to speak German because I was afraid of making mistakes. What I quickly learned is that it's impossible to learn a language if you are afraid of making mistakes. After about a month or so I became more comfortable with day-to-day conversation because I was speaking German more and learning a lot every day.
The Language and Areas Studies program in Berlin is all conducted in German (including classwork) and it was a fantastic opportunity to become proficient at German. I would recommend this program to anyone and everyone that wants to learn German! Most importantly, don't speak too much English because learning German was also a great way to integrate into the culture!