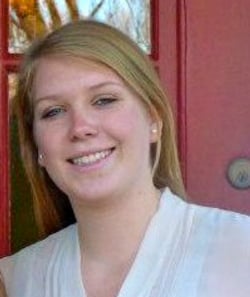 Where was your best photo taken and what was it of?
Madeline: With so many photos taken throughout the semester it was hard to pick just one. I decided to pick a photo of me surfing down sand dunes in Cape Reinga. This is a must do for anyone visiting New Zealand. I spent a weekend in the Bay of Islands, which is about a three hour trip north from Auckland.
One day myself and some friends rented a car and drove to Cape Reigna which is the northern most point of New Zealand where the Pacific and Tasman Sea meet. On our way to the point we stopped to ride down the giant sand dunes on boogie boards. Walking up the dunes may have been the hardest work out I have ever experience, but the rush coming down was worth it.
What did your provider do for you and what did you need to do on your own?
Madeline: I could not have been any happier with the provider I choose. Arcadia was fantastic from the moment I applied up until the end making sure my grades were sent to my home university. They made everything happen seamlessly. The best thing my provider did for me was the advisors they had in New Zealand.
Jane and Kate are some of the nicest people I have ever met and made me feel like I had a home away from home when I was in New Zealand. I knew if I ever needed anything I could reach out to them. The only thing I really had to do on my own was sign up for classes, which was not difficult and Arcadia left me with very detailed instructions to do so.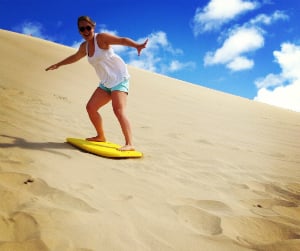 Tell us about an experience you had that you could not have had at home.
Madeline: Having independence while abroad was something I will never truly have at home. I thought when I went to college my freshman year I was being independent, but my parents were always a phone call away so I was never really "on my own."
It is different when you are abroad, because that phone call to your parents is not always possible. I remember thinking during my two week spring break, which was spent driving around the entire south island of New Zealand that my friends and I had planned this entire two week trip on our own with no help from our parents and if anything went wrong it was up to us to figure it out.
That feeling of independence was one of my favorite experiences abroad.
What was the best place you visited outside of your home-base city?
Madeline: Auckland was the perfect location, because I enjoyed the perks of living in a city, but it was also in a location that made it so easy for me to travel to other parts of the country so it is hard to pick just one place since all were so beautiful, but if I had to pick it would be Cathedral Cove.
Also known as Narnia as it is where part of The Chronicles of Narnia movies were filmed. After a short 45 minute hike you walk on to one of the most beautiful beaches I have ever seen.
With giant rocks and forest surrounding it was like no beach I had ever seen. We spent the day laying in the sun, swimming in caves and jumping of a giant boulder in the ocean. Defiantly a day I wont forget.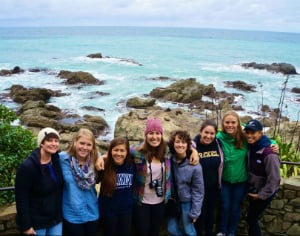 Do you feel you got a chance to see the city from a local's perspective?
Madeline: Absolutely. When I decided to study abroad I knew I wanted to go to an english speaking country so there would be no language barrier when making friends.
Some of my best friends abroad were from New Zealand which allowed me to be fully immersed in the culture and the city.
The location of my housing was perfect because it was a student apartment complex in the center of the city living with not only other study abroad students, but Kiwis as well. This allowed me to see the city from a locals perspective.