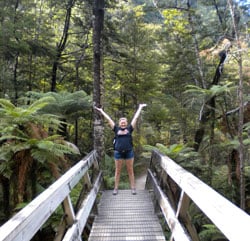 Describe your most meaningful souvenir and why you love it?
Amy: My most meaningful souvenir is a pounamou (the Maori word for jade) necklace that my dad bought me. Pounamou is very important in Maori culture. Many people believe that you should not buy pounamou for yourself because the stone accumulates mana, or life force.
When you buy it for yourself it is said to feel cold and heavy because doesn't have any mana yet. But when someone gives it to you it is said to be light, warm, and easy to wear.
It is a traditional to have punamou be passed down from generation to generation within a family in New Zealand. Whenever I wear it, I think of New Zealand and my dad.
What did your provider do for you and what did you need to do on your own?
Amy: The balance between what Arcadia did for me and what I needed (or wanted) to do on my own was great. I have to say that the in-country support staff is amazing, specifically, Jane Gunn-Lewis. She is an amazing person who does an outstanding job for Arcadia.
She planned a wonderful orientation complete with Maori powhiri (welcome ceremony) and hang (traditional dinner), sorbing, and a hot spa (heated through geothermal activity) as well as several other awesome activities.
She also planned a weekend for us at Abel Tasman national park, a day of making pavlova, and several other small meet ups throughout the trimester. All other activities were left up to me, but Jane was always willing to give advice and suggestions.
How has this experience impacted your future?
Amy: The experience changed me as a person, which will influence every aspect of my future. Before I went to New Zealand, I was not well travelled. I had only been out of the US to go to Canada on day trips (I grew up a few miles from the Canadian border). Travelling is now very, very important to me.
Since I went to New Zealand I have travelled to seven other countries and I have travelled more within the US too, including my first true solo travel adventure to Hawaii. So many people talk about 'seeing the world,' but traveling is so much more than that.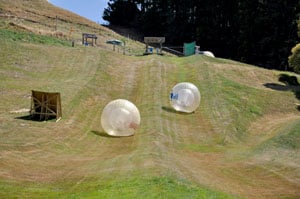 Tell us about an experience you had that you could not have had at home.
Amy: There are so many experiences that I had in New Zealand that I could not have had at home. Many of the experiences centered around the natural beauty that is everywhere in New Zealand or Maori culture. One experience that I could not have had at home still makes me laugh when I think of it.
All of the students that studied at Vic through Arcadia went to Abel Tasman together for a weekend. We took a water taxi to the middle of the park, kayaked half way back to a backpackers, stayed the night and then hiked the rest of the way back. The day that we hiked back it poured rain for the full four hour hike. When I tell the story, people usually say 'that's awful,' but it was fun, and beautiful.
Tell us about any interesting cultural tidbits you noticed about your country.
Amy: People in New Zealand are so accepting, helpful and are genuinely good people. Just being there made me feel so liberated and like I could do anything I wanted to.