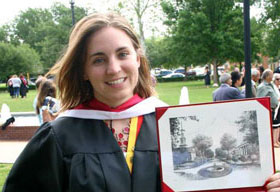 How has this experience impacted your future?
Jessica: In Peru, I came across much more expansive and apparent homelessness and poverty than I had encountered in my home town. It's always much easier to sweep aside an issue when it's not ever-present.
After experiencing first hand how some of these people live an dthe way that they are treated, I now strive in my every day life to focus on volunteer efforts centered around poverty and restoration efforts. Sometime in my future, I hope to have a career that would allow me to work daily with people in these conditions.
Did you forget to pack something important? Did you feel as if you were missing something?
Jessica: I wish I would have known that attire in Peru is generally more formal. I packed jeans and t-shirts, and wish I would have packed nice blouses and heels.
What was the best place you visited outside of your home-base city?
Jessica: The best place I visited outside of Lima was Iquitos (the Amazon). Although the climate is stifling, it was beautiful and offered a wide variety of food and activities to try.
What is one piece of advice you'd give to someone going on your program?
Jessica: The ISA program gives you plenty of opportunities to hang out with your American classmates in "cultural" settings. While I advise taking advantage of all of these as learning opportunities, strive to find your own niche.