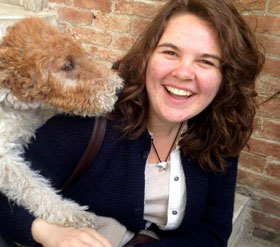 Why did you decide to go abroad with your provider?
Julia: Convincing my parents to let me take a second gap year was the hard part. Once that happened, deciding to go abroad with Art History Abroad was easy. I met one representative during a gap year fair at which I was volunteering.
Alex was friendly, open, and extremely willing to answer any questions I might have. The enthusiasm with which she described the program indicated to me that not only was it a valuable trip for students, but that the tutors enjoyed every second.
After the fair, every email I exchanged with the staff at AHA convinced me further that this program was the right choice for me.
Recall a time when your education and experience didn't prepare you for a situation abroad.
Julia: Directions are not my strong suit, maps completely confuse me, and I rely much too heavily on Siri to get me where I need to go. So when my tutor Steve shoved a map into my hands and said "Jojo, Georgia, you two are going to lead us to the Sacré-Cœur", I was dumbfounded.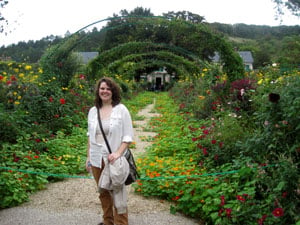 I looked at my peer Georgia and saw my panic-stricken expression mirrored in her face. Suddenly, though, her brows furrowed in determination and she grabbed the map and spread it before us.
Unfortunately, we found no red arrow above the words "YOU ARE HERE". The streets of Paris are winding and confusing. They intersect at strange places and divert in seemingly chaotic directions. I grew up in a newer city, where streets lay on a clinical grid. Somehow, we arrived at the great basilica, exhausted, but feeling more confident than we had 20 minutes past.
What is one piece of advice you'd give future students traveling with your program?
Julia: The advice I'd give to future Art History Abroad students is to simply let go. One of the best parts of AHA (and traveling abroad in general) is the total immersion in a different culture. I walked away from AHA with skills I never imagined. I ate foods I wasn't familiar with, stretched my mind around foreign concepts, and bonded completely with the other students.
Terrifying though it may be, letting go of cultural hang-ups and diving head first into new ways of living is a valuable learning experience. Not only can it expand one's definition of the world, it can expand one's definition of self.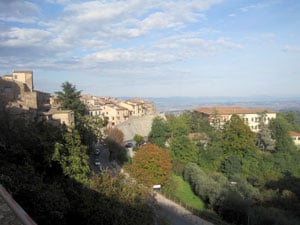 What was the best place you visited outside your home base city?
Julia: A fantastic aspect of AHA is that many cities become home base over the course of the trip. The groups pick up and travel from place to place, and each city becomes familiar in it's own way.
One of my favorite home bases was Nice, France. It may have been particular to my trip, but it was in Nice that our group really bonded and became a cohesive unit. Nice was sunny and relaxing, but not without rigor, both academically and physically.
The day trips we took involved bus transfers and miles of walking. We explored in one afternoon ancient bath ruins and modern art in the Matisse Museum. Another, we hiked up a mountain to explore the Maeght Foundation. The amount of art and culture we saw in Nice really only scratches the surface of what traveling abroad can mean as a whole.