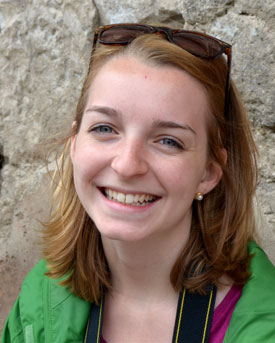 Where was your best picture taken and what was it of?
Kelly: The best picture I took was of Loch Tay when a few girls from my program and I went on an adventure weekend at the Edinburgh University Firbush Centre.
Our program provider, Arcadia University, organized a weekend trip at this outdoors centre for a bunch of students to hike, kayak, bike, meet other students, and most importantly—Ceilidh, traditional Scottish folk dancing!
One morning, before all students gathered for a hike, I looked out at Loch Tay and the sky was so blue and reflected perfectly in the lake. I snapped a photo and I think it has to be the best picture I have ever taken, in Scotland and otherwise.
Describe your most meaningful souvenir and why you love it?
Kelly: My most meaningful souvenir is the saltire flag key ring I bought with my friend, Caitlin, who I met abroad. We agreed that our study abroad experience in Glasgow was the best time of our lives, so we bought these key rings to signify a promise we made: that someday we will move back to Scotland together and be flatmates.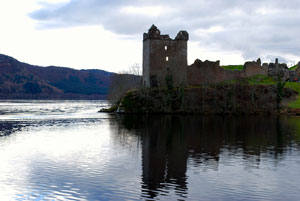 Now, this souvenir holds the key to my dorm, but someday it will hold the key to an apartment in Glasgow. Every time I look at it, I think back to the good times in Scotland and am reminded of my goal to someday live there again.
How has this experience impacted your future?
Kelly: After having this study abroad experience, my future has changed completely. I once thought I wanted to live in NYC or LA and work for a film production company. That has been my number one goal since I was in 7th grade.
Now, my ultimate goal is to return to Scotland and live there permanently. I still hope to be a filmmaker, but now my ideal environment to work in is Scotland, and Glasgow in particular.
My experience in Scotland has enlightened me to the possibility of falling completely in love with a place. I had never experienced a love for a city like my love for Glasgow.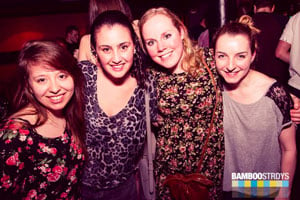 What made this experience unique and special?
Kelly: I think any experience where you leave home for 6 months and move to a foreign country where you don't know anyone is bound to be unique and special! I had never done anything like that before. I was always afraid of leaving home and friends and family; I like my safety net.
But leaving my comfort zone behind and embarking on this adventure alone forced me to grow up and become an independent person. I made so many new lifelong friends and fostered a love for a new country. I learned so much about myself, too, and recognized how strong I can be.
Describe your favorite must-have food that you tried abroad.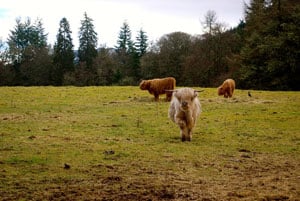 Kelly: A must-have food in Scotland is haggis, especially on January 25th (Robert Burns Day). I was worried about trying it when I first got to Scotland. After hearing the ingredients (sheep's heart, liver, and lungs), it doesn't sound too tasty. My expectations were pretty low, especially after seeing photos online! But haggis is actually quite delicious!
I tried it for the first time at Burns Supper, since I felt it was necessary, but after that day, I elected to eat it several more times. It's kind of a shame that I developed a liking for it, since I haven't been able to find it anywhere else. Scotland might be the only place in the world where you can find yummy haggis, so I would absolutely recommend trying it if you're ever there!