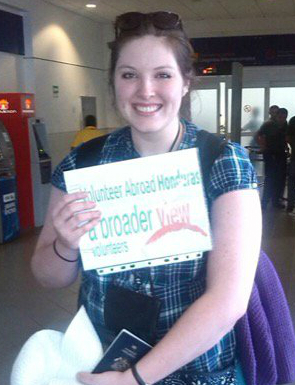 What is the most important thing you learned abroad?
Cat: The most important lesson for me was about true poverty. I grew up in a major city, and was no stranger to the homeless as there were quite a bit of them near my childhood home. However, even if someone is in extreme poverty, when they go to a doctor in the US they are treated with whatever is necessary. Even more simply, it is expected that the medical staff has the proper training and equipment to handle most basic procedures.
At the public clinic in La Ceiba, there is practically zero supplies. Patients need to bring their own gauze and gloves if they have a wound to clean. There is only one blood pressure cuff in the entire clinic. They rely on only donations for any supplies at all and use a little as possible. To me this was astounding, as even in severe poverty most of the US is able to obtain supplies for the basic medical needs.
What do you tell your friends who are thinking about going abroad?
Cat: This was not my first trip abroad on my own. I have been lucky enough to study abroad in both France and Sweden. The difference for this trip is that it is not about getting good grades or seeing the sights, but about making the small difference you can in a difficult place.
Honduras is not the typical vacation destination, nor is it considered particularly safe. However, if you are even slightly considering this type of trip, GO DO IT! The experience that you will have, the lessons you will learn, the people you will meet, and the rewarding nature of your work is worth any risk. With ABV I never felt unsafe or unsure, and was able to focus on the task at hand. Get as much information as you can beforehand so that you make sure you are getting the exact trip that you want. Fundraise as much as possible to keep down your costs. More than anything, be open to every experience you can. It WILL be worth it.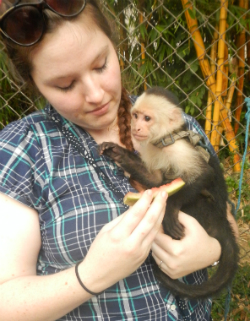 What's your favorite story to tell about your time abroad?
Cat: It is hard to chose a favorite story as each one was memorable. One of my favorite experiences during my off time was visiting Sambo Creek and the garifuna culture. Honduras is a melting pot of cultures, including the African culture of garifuna. Just east of La Ceiba is the town of Sambo Creek, where there is a large population of the garifuna people. They combine their African influences with the Honduran landscape to create a stunningly unique food and culture.
During a weekend, another volunteer and I went with a tour guide to this town to learn about the culture. There we tried traditional garifuna whole fish with plantains and conch soup. We even had a local boy come dance for us during our meal with traditional drumming. For desert was sweet coconut corn soup and a dip in the ocean. This is a relatively poor people, but when we joined a group of young kids for a soccer game with sticks as goals, all status melts away for just pure fun.
What made this experience unique and special?
Cat: When I was in Honduras I had a lot of hands-on medical experience taking blood pressure, giving shots, and cleaning wounds. However, I never expected that they would allow me to learn and see as much as I did. They taught me how to put in a catheter for a male and perform stitches on an ACE bandage. I got to see the treatment of diseases such as malaria, leishmaniasis, viral encephalitis, and dengue fever. Not only were the staff always will to explain to me what was going on or show me what to do, they used scarce and precious resources to teach me procedures. I was only there for two weeks, and yet this is part of the culture in Honduras -- always willing to help.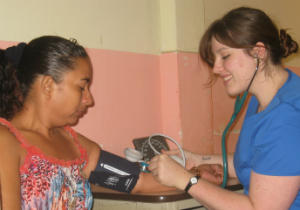 What made this trip meaningful to you, or how did this trip change your perceptions or future path?
Cat: I can honestly say that I will never forget my experience in La Ceiba. I have been sure that I wanted to become a doctor for years. After graduating, I was questioning my desire. This trip was not just to volunteer my time, but to reaffirm my love of medicine. There was not one moment that didn't reiterate to me that there was something special about this field. It is more than just the science. Its about the people you get to help.
For example, I was working with one of the physicians and we had a patient with epilepsy. She had a seizure and cut her head during the fall. In speaking with her, we found that she was homeless because her family did not accept her illness and kicked her out. The only clothes she had were the blood covered ones she had on. We were able to get her clean clothes, wound supplies, and free medication so that she could regain her dignity and prevent further episodes. Medicine is about the whole person, and I thank her every day for showing me why I love medicine more than anyone else ever has.