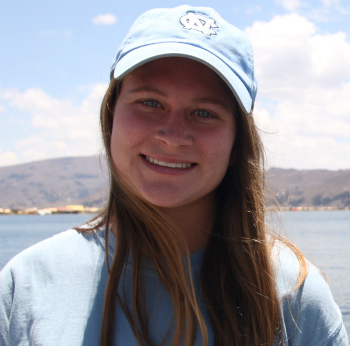 Why did you pick this program?
Meredith: I chose to do the Latin America gap semester with Adventures Cross Country because I liked the balance of adventure and service that the program offered. I remember reading the description of the semester and being blown away by the sound of everything on the itinerary. We balanced fun activities like white water rafting and ziplining and travel to amazing places with service projects that were both enjoyable and meaningful. I also liked that there was a lot of diversity in the type of projects that we worked on. We had environmentally focused projects like sea turtle conservation in Costa Rica as well as projects focused on helping the people of the communities we visited, like volunteering at an orphanage for girls in Peru.
Another aspect that drew me to ARCC was the educational component of the semester. We focused on five themes throughout the semester and had a course reader filled with articles and information about the places we visited and the projects we worked on. I liked how this brought a little bit of traditional learning to our semester of experiential education and it also really helped to give perspective and context to the things we were doing. And rather than being a burden, I think that it really enhanced my experience and allowed me to become more fully immersed in everything that we did.
What do you tell your friends who are thinking about going abroad?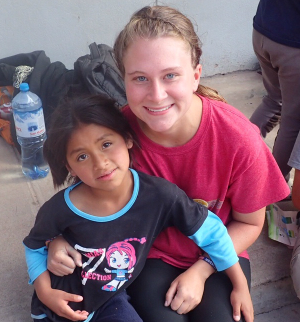 Meredith: To anyone who is considering taking a gap year, I say, don't be afraid to do something different. Choosing to take a gap year was difficult and the idea of leaving home and traveling abroad was really scary for me but it was so worth it! For me, traveling to Latin America has given me so much more context to the things that I've previously learned in school and I think what I learned on my ARCC semester will continue to help me in the classroom in college. Traveling abroad really does give you a new perspective, I learned so much about the world, other cultures, and myself and I'm so thankful that I had the opportunity to take a gap year and travel.
What's your favorite story to tell about your time abroad?
Meredith: One of my favorite stories to tell about my trip was during a home stay in Ecuador. It was our final day in the village and we were spending the day with our individual families. My housemate and I had spent the morning running errands with our host mom and then working on the farm and preparing lunch. By mid afternoon we were a little bored, very hot and sitting around with nothing to do, so we decided to go swimming in the river.
We made like the locals and jumped in the river and the chill of the water was such a welcome relief from the heat of the jungle. Our 11 year old host sister and her friends came and joined us, showing us how to swim in the current of the river and we laughed with them as we all tried to communicate with our limited knowledge of Spanish. All traces of boredom were gone and we had a really amazing afternoon. I love this memory not only because it was spontaneous and fun but also because I really felt like we were one with the community and had bonded with our family.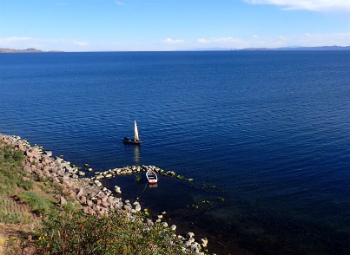 What made this experience unique and special?
Meredith: While my group did some amazing things and saw some incredible places, I think what made the experience so special and amazing was the group itself. Traveling with the same group of people for three months was both challenging and rewarding but I made some lifelong friends on my semester, and wouldn't change it for the world.
In addition to my fellow students being awesome to travel with, our trip leaders were amazing. Our instructors were professional, organized and always on top of everything. But more importantly, they became friends to me and helped me through all the highs and lows of my semester. They were amazing mentors, teachers and friends and I know that my semester would not have been as great as it was without them.
Tell us about an experience you had that you could not have had at home.
Meredith: One memorable experience that I definitely wouldn't have had at home was when we were invited to an indigenous wedding while we were staying in a small village in Ecuador. We were working with the Tandana Foundation and their close ties with the community got us an invite to a local wedding.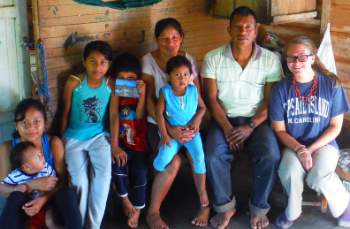 On the day of the wedding, women from the village came to dress up the girls in anakos, their traditional clothing. After feeling a little bit more like one of the community, we headed down the road and were able to watch the ceremonies, eat traditional food, and participate in hours of dancing. This was an amazing opportunity to compare their culture to ours and see what an event as big as a wedding meant for the community.
Experiences like this, where I was able to feel so welcomed into a community that was so different from my own, are something that I never would have had if I hadn't decided to take a year off and travel.
What is one piece of advice you'd give to someone going on your program?
Meredith: One thing I would say is even though it may be hard, do your best to appreciate everything you do on your semester. Try to live in the moment as much as possible, don't think about what you're missing at home, but try to realize all the things you're gaining from being abroad. Embrace the challenges of your semester and love every moment because it goes by so fast and often it's the challenging times that end up being the most worthwhile.