Give us an intro!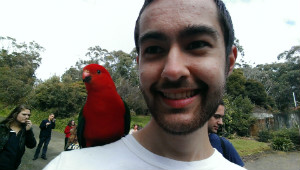 Dan: Dan is going into my senior year at Stevens Institute of Technology as an Electrical and Systems Engineer.
Why did you pick this program?
Dan: I went with TEAN because I had no idea where to start when I was looking to go to Australia. I needed a visa, housing, a school to apply to, and a plan. TEAN was able to provide guidance through every step of the process. I finally knew where I was going to live and how I was going to make it through a semester.
It's not only that though, they hosted excursions to places I haven't heard of or wouldn't have otherwise gone to. They took us to Cairns and snorkeled over the Great Barrier Reef. And then Melbourne and saw an Australian Rules Football game. There were also smaller excursions to other parts of Sydney along the way.
TEAN had people staffed close to where we were so if there was anything we ever needed they could help out, whether it was a suggestion for a place to eat or someone to go somewhere with they were there to help.
What do you wish someone had told you before you went abroad?
Dan: I wish someone had told me what else I could get out of travelling to Sydney. Of course I got so much out of my trip but of course everyone has a different experience so everyone gets something different out of travelling.
I want to know what they got out of it. Maybe there is something I absolutely should have done but didn't because it wasn't too impressive on its face.
What was hardest part about going abroad?
Dan: The hardest part was being thrown on the other side of the world where I know no one and nothing. Of course TEAN made that feeling go away pretty quickly but there were still a lot of adjustments to be made.
I remember arriving there and taking a bus to a hostel. On the way I saw things that would make me think "oh, I should go there" but then realize I didn't know where "there" was.
I didn't know how to get anywhere or what to buy so I could stabilize my life there for 6 months. Luckily TEAN spent a week getting us all to become comfortable with Sydney and how to get around.
What's your favorite story to tell about your time abroad?
Dan: Oh man I have a few stories but my favorite one is when I spent a week in Tasmania. I was working in rural Tasmania on a farm in the middle of nowhere. One day I decided to go on a nature walk because there was nothing else to do when the work was done. I heard of a nice trail in the woods I could take, but I haven't heard of the long walk it would take to get there.
About halfway through my walk to the trail, I saw a bunch of goats in a fenced in area. I "baaa-d" at them and they started climbing the fence and following me. Not wanting to steal them, I tried to put them back with no success, so I tried to outrun them. I found the subtle trail head but unfortunately the goats did too.
It was dark at this point but fortunately I could see where I was going. Still trying to outrun the goats, I ran through the trail with wallabies bouncing back and forth on all sides of me.
Eventually I made it out and ran back to my host family's house and told them the story. They said it was common.
What made this trip meaningful to you, or how did this trip change your perceptions, future path?
Dan: This trip was the first time I had spent so much time away from anything I knew back at home. I went to an engineering school in Sydney because I wanted to get a new perspective on how engineering is used in other parts of the world. I got involved with a society where I learned Australia's place in the space industry and that helped me with securing an internship within the space industry.
Other than that, I did some travelling alone which gave me a lot of time to think about what I wanted to do and do it. During this time I learned a lot about myself and what I really wanted.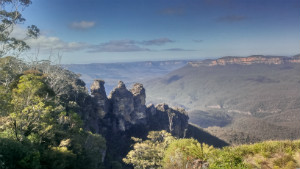 I learned some of my limits, my strengths, my weaknesses, and what I was really looking to get out of travelling. It turns out that part of what I needed was to just force myself out of my comfort zone. Now that I'm back home I have more plans to travel.
"I hear Australia is full of exotic wildlife. Did you have any experiences with any of it?"
Dan: I'm glad you asked. If there's a chance to see unique wildlife, I would suggest taking it. One experience I remember is seeing Brushtail Possums in a park in Sydney. Rabies doesn't exist in Australia, so I'm told, so I got a banana and gave them some of it. They come right up to you and aren't afraid to eat right out of your hand.
Another time was on the Great Ocean Road in southern Australia. We stopped in this village with a large flock of small birds who would stand right on your shoulder or your head if you had some food for them. I had a few birds on me at once eating a Tim Tam.
Kangaroos, wallabies, and wallaroos are all fun. They're supposedly different species but I consider them all kangaroos of varying sizes. It's fun to see a few of them at once bouncing around and it's neat to see one with a joey sticking its head out of the pouch.
You hear all about how Australia has deadly animals and how everything is dangerous. That may be true but doesn't come up too often. In fact I only saw one huge spider and it may have not even been venomous.