What is your favorite travel memory?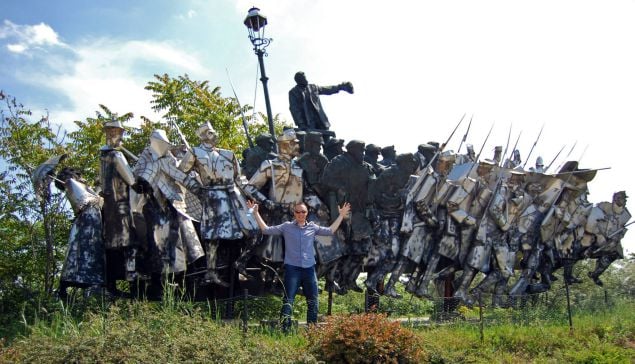 My favorite travel memory is going away from my small rural town in Scotland, three days after my eighteenth birthday, to begin my great (and ongoing) nomadic educational life!
Of course, I had no idea at the time it was the beginning of a life, I just thought I would go and teach guitar and sports and games on the side of a mountain in the middle of nowhere for 11 weeks and then go home.
But that experience, the people I met who wanted to see outside of their own little world and who wanted to teach others was so inspiring that it still fuels me to this day, fifteen years and counting!
How have you changed/grown since working for your current company?
I've never worked full time for a charity before, and it is a different atmosphere I think we generate here. Everyone is super-ready to help their fellow teacher/tutor/HR person/Friendly Admissions Officer, with the idea of "a rising tide floats all ships" being one I feel I identify with.
I've definitely worked harder but at the same time looked forward to working hard and seeing what a positive difference I can make to everyone round about me, directly and indirectly.
What is the best story you've heard from a return student?
We actually currently have interns, full time staff and even management now within The College who took part as trainees in one or more of our programs which have only been running for four years.
I think that says so much about our organization and the strong effect it has on people who come to take part in it. Their stories are obviously about how they fell in love with the charitable ideals of the organization, its aims as a teacher training college, and perhaps the stunning Austrian scenery!
If you could go on any program that your company offers, which one would you choose and why?
I would, as a teacher of nine years experience, but not a huge amount of direct experience with younger learners, choose to go on our CELT-P course which is specifically designed for teachers who have several years of classroom experience and/or a qualification such as a Trinity CertTESOL, CELTA or PGCE.
This course takes your teaching to a new level, and really focuses on techniques for teaching young learners which are not covered as thoroughly in the CertTESOL or the CELTA, while giving you three months of in-classroom teaching to perfect them!
What makes your company unique? When were you especially proud of your team?
Our company is unique because no other teacher training course I know of in the world gives the trainee teachers 300 hours in-class direct teaching time with real school pupils, along with free accommodation and food for four months, AND gives such close, tailored support to the trainees, who then come out of the course with either a Trinity CertTESOL or a Cambridge CELT-P, all for a one off program fee of €100. It's incredible value.
I am always proud of my team when stepping in for others, in times of illness, personal issues or myriad other reasons. We pull together as a family to keep on providing an awesome experience for our trainees and the schoolchildren we teach.
What do you believe to be the biggest factor in being a successful company?
Being a successful company relies on having a great concept, a great execution of that concept, and hard-working staff who believe in what they are doing and are supported by strong empathetic management. I think for the English Teacher Training College, all of these are in place, and our trainees who come on our course and are welcomed into the family feel the same way about us too.