What makes interning in Barcelona a unique experience for interns?
Lea: Barcelona is the second largest city in Spain and bursts with diversity! This diversity is visible in the wealth of internship opportunities available in this international hub for creative thinkers, IT programmers & application creators, architects, entrepreneurs, venture capitalist and humanitarians...what makes it even more unique is that the Catalan language is a point of local pride!
What can you tell us about the workplace culture in Barcelona?
Lea: People can expect a slightly more relaxed working atmosphere, (and plenty of discussion about the most recent Barca football game), but hours can be longer and expectations high in the areas of finance, business or law. NGOs tend to slow down in the early afternoon and people tend to leave for home earlier on Fridays. Everyone eats really late though, so prepare to only eat lunch at 2 or 3 and dinner never before 9!
Do interns need prior work experience in order to apply for this internship? How does Connect-123 ensure a rich professional experience during this internship?
Lea: Some experience is helpful of course, but we try to find a unique "hook" or skill the intern can offer to their organisation and build on this as much as possible. Refining task and setting expectations are key in order to make the work experience most beneficial for both parties involved. Projects are all happening in real time and interns involved in real world work, gaining hands on exposure while thinking on their feet!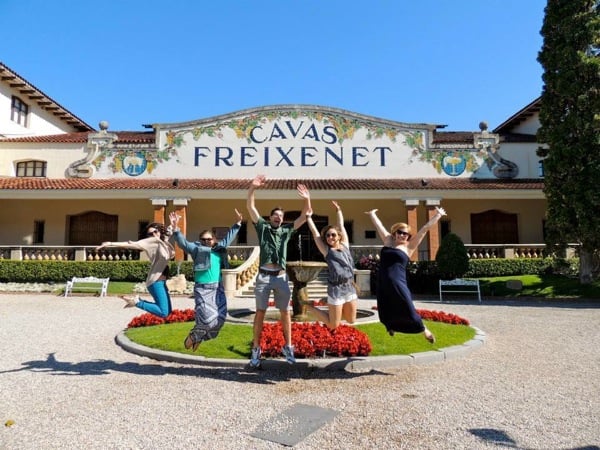 What level of Spanish proficiency do you recommend for interns considering this program? Are there any requirements?
Lea: It is of course more helpful to speak some Spanish, but various English language options are also available across industries, and we make sure to adjust project duties to the level of Spanish spoken. We work with a language school partner that offers a 25% discount to Connect-123 program participants, and class options range from informal group, to one-on-one intensive lessons.
What are some extra-curricular activities participants enjoy while interning in Barcelona?
Lea: The city bursts at it's seams with free annual neighbourhood festivals and cultural events! We tap into these as often as possible with scheduled weekly events such as going to the colourful Gracia Festival, the Three Kings, Castellers, open air movie nights on Montjuic or taking the train to the famous monastery of Montserrat. Visiting famous landmarks like the Boqueria, Picasso museum, the Sagrada Familia or Gaudi's houses are at your fingertips daily!
What is one piece of advice you would offer someone considering interning abroad in Barcelona?
Lea: Remember that Catalan is the emotional favourite language and widely spoken by the proud locals of Catalonia. Try to adjust your ear to it, and do not be discouraged if you do not understand it! Everyone speaks Spanish, and the moment they realize a non-Catalan speaker is present, they are more than willing to switch back to Spanish!