What makes studying abroad in Istanbul a unique experience for students?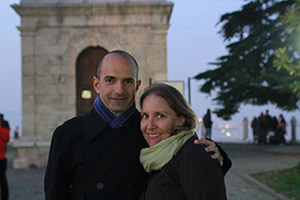 Bulent & Amy: Istanbul conjures up images of crumbling ancient city walls and soaring skyscrapers, bustling bazaars filled with spices and trendy dance clubs packed with urban youth. It's a city which, due to its location, history and ambitions, may just be the natural capital of Eurasia, or at least it aspires to be. Over the past decade, Turkey has emerged as political, economic and cultural leader in this region, never shying away from showing how a secular democracy can thrive in a Muslim majority country. Istanbul has been called "the world's hippest city" by many and is known for its unique artistic perspective. The CAPA Istanbul program offers students the opportunity to observe how an ancient culture has transformed itself time and time again, evolving into a modern crossroads of two continents.
At the same time, while Istanbul is often billed as the city where "East meets West" to many it is simply a place where those geographies pass each other on the way in and out of town. Afghans, Iranians, sub-Saharan Africans, Bosnians, Bulgarians, Armenians, Filipinos and many other nationalities end up in Istanbul, struggling to get by or to move on. The migrant communities of Istanbul represent significant cultural diversity but they are not always understood or welcomed by a city that prides itself on being part of an empire that spanned several continents. For this reason, Istanbul's modern challenges are just as fascinating as it's incredible past achievements. This is just one of Istanbul's many political, economic, and societal issues that students may delve into during their program.
What can you tell us about the culture in Istanbul?
Bulent & Amy: Istanbul is one of the largest and most densely populated cities in the world and is apparent the minute you step out the door. Every train car, bus, minibus and ferry are filled to capacity with businessmen rushing from meeting to meeting, mothers and children running errands, students yawning on their way to class after a late night, and tourists struggling to find their way to the Blue Mosque. It can be a challenge to keep up with the energy and pace of things, Expect to be late because travelling around the city always takes longer than you think it will and expect others to be late, too.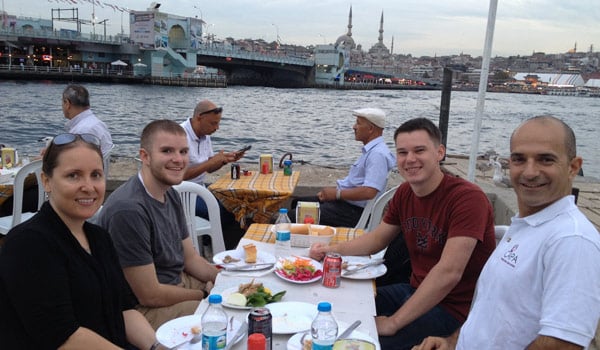 Turkey is rushing headlong into some of the fastest modernization efforts imaginable, sometimes at protest-worthy environmental expense. At the same time, many Istanbul dwellers are only one generation away from their rural farming roots. Glamorous shopping malls and massive Starbucks shops have been dropped into neighborhoods where shouting grandmas drop a basket on a rope from their top floor balcony to collect endless loaves of bread purchased from the shop downstairs or maybe the chicken that escaped from their stairwell. Expect things to feel strangely familiar and unbelievably foreign at the same time.
Most locals will assume you are a tourist. This can be frustrating when, after several weeks of learning your way around and soaking in the cultural norms, you just want to feel like part of the crowd. Expect to stick out when you are trying to bargain in the market and be mistaken for an incompetent Turk when you can't remember how to get the driver to open the back door of the bus!
Turks are passionate about many, many different things including their favorite football team, the memory of the founder of the modern Turkish republic Ataturk, the origin and deliciousness of certain dishes, who has the right of way at an intersection. Expect to hear them discuss, defend and debate their beliefs and opinions loudly and far more thoroughly than you might. Eventually, they will get back in their car and everyone will drive away thinking they won the argument!
What level of Turkish proficiency do students need to have before enrolling in this program?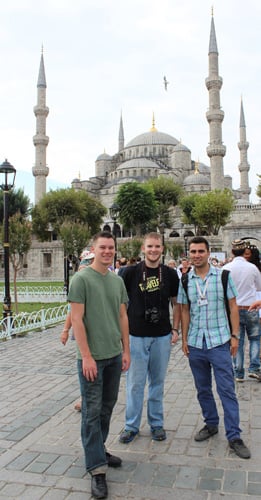 Bulent & Amy: Because of its rapidly growing popularity with tourists from all over the world, many residents of Istanbul speak some English, but Turks are also known for their hospitality and many conversations often occur with only a few shared words and lots of non-verbal communication. However, CAPA Istanbul students study at Bilgi University which offers a significant number of courses in English. Because of this, Bilgi students are expected to be proficient in English, although they may need some encouragement to tackle the challenge of a fast-paced American conversation. We encourage all students to take the Elementary Turkish course offered at Bilgi so that they can connect better with the city around them. A little effort to speak Turkish goes a long way here!
What are some extra-curricular activities participants enjoy while studying in Istanbul?
Bulent & Amy: The CAPA Istanbul semester includes a unique program called MyEducation which guides students through both self-directed and group activities that encourage them to explore their chosen city more deeply than a tourist. Throughout the program, students follow a calendar of visits to museums, lectures, festivals, markets, and other opportunities organized around five core themes including "diversity and identity" and "landscape and time." MyEducation is designed to enhance classroom learning by pushing students to see the city's amazing history firsthand. One of the best ways to see many cities is by foot, and Istanbul is no exception. Every few weeks, CAPA's Academic Director leads students on a walk focusing on a specific part of the city by walking along the old Roman city walls or through the rapidly gentrifying neighborhoods of Fener and Balat. Beyond Istanbul, CAPA also offers excursions to ancient sites like the ancient Christian churches carved into the caves of Cappadocia in the central Anatolian plateau and the 20th century battlefields of Gallipoli.
What is one piece of advice you would offer someone considering studying abroad in Istanbul?
Bulent & Amy: Take advantage of the opportunity to live and take classes with Turkish students. Turks are some of the most welcoming, generous hosts a student could ask for and are eager for the opportunity to share their pride in their culture, language and history.