CAPA The Global Education Network: Alumni Network
1 traveler is looking at this program
Since 1972, CAPA The Global Education Network has been an organization committed to empowering student learning through personal choice, academic integrity, and engagement in urban environments abroad. Their unique and holistic programming approach challenges, excites and inspires its participants.
The CAPA The Global Education Network alumni network page is dedicated to programs that are no longer in session, but nonetheless had significant impacts on these students' lives.
Alumni of programs no longer in session are encouraged to leave a review of their past experience with CAPA The Global Education Network. To view alumni reviews, click on the "Reviews" tab below. For more information about CAPA The Global Education Network and for a current list of all available programs, check out the CAPA website or their fabulous profile on Go Overseas!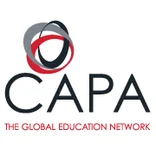 CAPA Scholarships and Financial Aid
Each year, CAPA awards $1.5 million in study abroad scholarships, grants, and affiliate benefits! With CAPA you can participate in a study abroad and/or global internship program in Barcelona, Dublin, Florence, London, Paris, Prague, and Sydney.