Did YOU intern abroad?! If so, where and what inspired you to go?
Carl: I didn't get round to interning abroad but I did go abroad to study, to gain international experience and to improve my language skills. Over 18 months I studied in Zaragoza, Spain, Grenoble, France and Florianopolis, Brazil. Variety, as they say, is the spice of life.
It was a no brainer to study and work abroad – as soon as I had the opportunity I knew I would fully embrace everything the experience had to offer. I had the time of my life and my time abroad taught me that know that no matter how alien the situation, it is possible to adapt.
What country have you always wanted to visit?
Carl: It is hard to pick just one as I have been fortunate enough to visit a good number of countries and sample a number of cultures. Brazil was a big one that I am happy to have ticked off my list.
The big unknown for me at this stage would be living in the USA and particularly New York. Having lived in London and a number of smaller cities I've realized that I prefer the hustle and bustle of these urban areas. I consider New York to be my next upgrade – watch this space!
Describe a time when you felt especially proud to be part of the City Internships team.
Carl: Each year it is difficult not to feel proud of the team on the day of the welcoming ceremony as we see all of the hard work we have put in over the previous months come together. The event is always fun and gives the entire City Internships team the long-awaited chance to meet some of the students and recent graduates that we have been liaising with in the build up to the program.
The last event of each year, taking place on the final day of the program, also inspires a sense of pride and accomplishment. It is our opportunity to catch up with each intern after the eight-week program and we get a sense of how much they have developed in such a short space of time.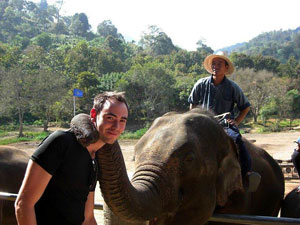 What is the best story you've heard from a return student?
Carl: I have heard a lot of positive stories from the interns both during and after their internships, but my favorite features two students.
A couple of years ago we had two girls interning together with a company in London, one from Spain and one from Germany. At a recent reunion we discovered that both of them were living together and working in London – it's great to see City Internships alumni developing their careers together and maintaining friendships.