Why choose Cow House Studios?
Cow House Studios is a progressive artist-run school and residency set in the farmland of county Wexford, Ireland. A productive farm to this day, the 180 acres of land provide an authentic and inspirational backdrop while facilitating multidisciplinary practices for artists in residence and students, focusing on cross-cultural learning and creative exchange.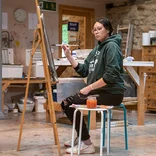 Cow House Studios Gap & Summer Scholarships
Cow House Studios offer several scholarship opportunities for both our summer program Art on the Farm and our gap year program FieldWorks. All scholarship applicants must submit a portfolio that demonstrates an advanced practice. We assess student portfolios by determining how the realization of completed artworks reflects a young artist's curiosities, concerns, experience, and research. You can read more about these opportunities and the application process on our website.
Staff Interviews
These are in-depth Q&A sessions with program leaders.
Professional Associations