Subject Areas
Service Learning
Need-based funding, Merit-based funding, General grants/scholarships, Payment plans, LGBTQIA+ funding, BIPOC funding
View Other Details
0 travelers are looking at this program
We strive to provide diverse, affordable, meaningful, and ethical global service-learning opportunities. Through professional and personalized support, our goal is for each participant to meet our learning objectives of personal growth, intercultural competency, academic application, and civic engagement!
While service-learning in Africa, appreciate the amazing architecture of UNESCO World Heritage site Meknes, such as Bab Mansour, a huge gate with towering arches and mosaic tiling in Morocco and take a cable-car ride up Table Mountain to enjoy the breathtaking view of the city and peninsula while in South Africa.
We are dedicated to developing ethical and sustainable service-learning programs with the intention of forming mutually beneficial relationships while making a positive impact on the communities we serve. In bringing unique people and cultures together, we aim to promote an understanding of global issues.
We have partnered with Fill it Forward to engage team members and program participants in waste reduction practices. The goal is to encourage the elimination of single-use waste. Every QR code scan shows the impact of reusable bottles and unlocks a donation to environmental impact groups.
WorldStrides, a global organization, is committed to educate and serve communities worldwide. Our commitment is fueled by the passion of our team members and partners to make experiential learning accessible, while also being socially, environmentally, and ethically responsible. Together, we accomplish this by investing in initiatives to promote inclusion, diversity, and sustainability.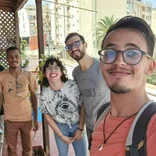 Morocco, the westernmost country in the Arab World, is known as al-Maghrib (the west, or the place of sunset) in Arabic. Meknes, known as the Versailles of Morocco, embodies the intricate blend of the Arab, Amazigh, and European cultures that form modern Morocco. You will be welcomed into the local community while serving within the fields of education, community development, health, or human rights. Service-learning in Meknes provides you with a unique opportunity to practice Arabic & French!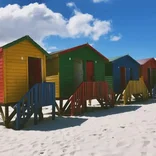 South Africa boasts a coastline of more than 2,000 miles of beaches and an unparalleled range of biodiversity. Cape Town is rated as one of the most beautiful cities in the world, with the backdrop of flat-topped Table Mountain juxtaposed by the sweep of the Atlantic Ocean in the foreground. Cape Town offers a variety of service-learning opportunities for anyone interested in working with local education centers & schools or aiding human rights organizations and family development centers.
ISA by WorldStrides Diversity Scholarship
This scholarship is offered for summer and semester programs and is intended for students with identities historically underserved in education abroad. This can include, but is not limited to, individuals who identify as African American/Black, Hispanic/Latino, Asian American, Alaskan Native, American Indian, Native Hawaiian, LGBTQIA+, First-Generation College Students, U.S. Military Veterans, students with disabilities, and/or students at Minority-Serving Institutions.