ISA Study Abroad in Florence, Italy
Term
Academic Year, Fall, J-Term, Spring, Summer
Need-based funding, Merit-based funding, General grants/scholarships, Payment plans, LGBTQIA+ funding, BIPOC funding
View Other Details

Program Details

Degree Level

High School Diploma

Housing

Apartment

Host Family

Pricing

Price Details

Program Price Includes:

• Comprehensive Advising and Support

• Tuition at the Host University

• Official Transcript from Host University with ISA Cover Letter

• Housing

• Meals and Laundry Services

• Bridging Cultures Program

• Full-Time Resident Staff

• On-Site ISA Offices

• Computer and Internet Access

• Excursions

• The ISA Discovery Model

• Cultural Activities

• Medical Insurance

• Comprehensive Health, Safety and Security Support

• Airport Reception

• Visa Support

• Tutoring

• The Professional Development Toolbox

• Scholarship Opportunities

What's Included

Accommodation

Some Activities
70 travelers are looking at this program
Study abroad in Florence, Italy at the Florence University of the Arts (FUA) and Apicius International School of Hospitality (AISH) or at the New York Film Academy (NYFA). Students will spend time mastering their artistry in one of the most diverse artistic cities in the world in so many facets. They will explore all of the history and architecture that Florence has in store to get a lifetime worth of inspiration.
ISA offers excursions that are included in the program cost. Destinations include Rome, Cinque Terre, Siena, and central Italy. Students will immerse themselves in the culture of Italy during an amazing semester or summer abroad. Check out the ISA website for all the details!
We have partnered with Fill it Forward to engage team members and program participants in waste reduction practices. The goal is to encourage the elimination of single-use waste. Every QR code scan shows the impact of reusable bottles and unlocks a donation to environmental impact groups.
WorldStrides, a global organization, is committed to educate and serve communities worldwide. Our commitment is fueled by the passion of our team members and partners to make experiential learning accessible, while also being socially, environmentally, and ethically responsible. Together, we accomplish this by investing in initiatives to promote inclusion, diversity, and sustainability.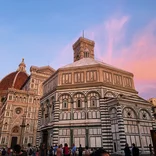 Located between the historic Palazzo Doni and Palazzo Guicciardini-Strozzi, the Florence University of the Arts (FUA) is housed in a combination of historic palaces converted to modern academic buildings. With free access to internet, research labs, recording and art studio spaces, demo kitchens, fashion media labs, and numerous other facilities, you will enjoy a fusion of Florentine tradition and modernity!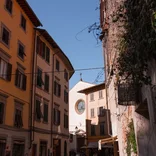 The New York Film Academy (NYFA) Florence's campus is built on the remnants of an ancient amphitheater that was built 2,000 years ago and is located steps away from the Piazza Santa Croce. NYFA has been successfully providing unique summer study programs in Florence for 16 years and has welcomed more than 1,000 students from nearly 35 countries.
ISA by WorldStrides Diversity Scholarship
This scholarship is offered for summer and semester programs and is intended for students with identities historically underserved in education abroad. This can include, but is not limited to, individuals who identify as African American/Black, Hispanic/Latino, Asian American, Alaskan Native, American Indian, Native Hawaiian, LGBTQIA+, First-Generation College Students, U.S. Military Veterans, students with disabilities, and/or students at Minority-Serving Institutions.