SFS Study Abroad: Conservation + Development Studies in Cambodia
Term
Fall, Short Term, Spring, Summer
View Other Details

Program Details

Degree Level

Associates

Bachelors

Pricing

Price Details

Program fees include tuition, housing, daily meals, field excursions, entrance fees, cultural activities, advising services, airport transfers, 24/7 mental health and well-being support, official transcript processing and more – check out our website. Need-based scholarships available.

What's Included

Accommodation

Activities

Airport Transfers

Classes

Meals

Transportation

Wifi

What's Included (Extra)

No Application Fee!

What's Not Included

Airfare

Travel Insurance

Visa
6 travelers are looking at this program
SFS offers some of the best (and most adventurous!) hands-on study abroad programs. Our programs in Cambodia explore pressing environmental issues such as climate change, biodiversity conservation, and environmental policy, ethics, and justice. Students learn through outdoor lectures, hands-on field exercises, and activities with community members and area NGOs.
The SFS Cambodia campus is our most urban location based on the outskirts of Siem Reap and near the famed temples of Angkor. It is a breezy, modern campus nestled in a quiet neighborhood minutes away from the bustling downtown area where you will find restaurants, shops, and markets with unique Cambodian flair. Students on the Summer I program are based at the Elephant Valley Project in Mondulkiri.
Click on Visit Site above to learn more about studying abroad in Cambodia with SFS!
Program Highlights
Earn academic credit: 18 credits for semester programs and 4 credits for summer programs. Conduct a 4-credit research project during the semester program.
Develop core skills including species identification, wildlife monitoring, elephant behavior analysis, ethics & reasoning, basic Khmer language, research design & implementation, data collection & analysis, research presentation, and more.
Observe some of Cambodia's most striking and endangered species: Cantor's giant softshell turtle, Irrawaddy river dolphin, gibbon, adjutant storks, and many more.
Meet the gentle giants of Mondulkiri: Visit the Elephant Valley Project, Cambodia's original elephant sanctuary, to study elephant behavior and ecology.
SFS Cambodia semester research topics may include elephant ecology, climate change impacts, traditional ecological knowledge, biodiversity conservation, environmental justice, Buddhism influences.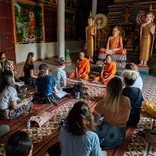 Spend the semester exploring Cambodia – from the great Tonlé Sap Lake and ancient Angkor temples to elephant sanctuaries and dense forests full of diverse wildlife and plant species. Study threats to biodiversity, learn about environmental justice and policy, and discuss traditional medicines with Indigenous communities.
5 classes | 18 credits | One life-changing study abroad experience.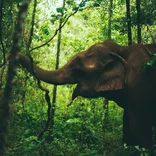 Study the behavior and ecology of the endangered Asian elephant in the Keo Seima Wildlife Sanctuary. Examine human-wildlife conflict and conservation pressures, discuss elephant welfare and management practices. Visit the vibrant city of Phnom Penh and the ancient temples of Angkor to explore the history and culture of Cambodia. The home base for this program is in the Mondulkiri highlands set on the slopes of the Elephant Valley.
1 class | 4 credits | One life-changing study abroad experience.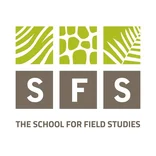 The School for Field Studies Scholarships
SFS works closely with your home school to help you fund your SFS program. Many applicants receive aid through their home institutions or other outside sources, so check with your financial aid office to see what aid may apply to an SFS program.