ISA Study Abroad in Heredia, Costa Rica
Term
Fall, Spring, Summer
Subject Areas
Cultural Studies
View Other Details
3 travelers are looking at this program
Relax in the beautiful Costa Rican city of Heredia! ISA and Universidad Latina have teamed up to give you an unforgettable study abroad experience. Heredia is smaller than San Jose, the close-by capital of Costa Rica, offering many of the same things, but resonates Costa Rican culture in a purer form.
Study Spanish language, electives in English, and other courses with Costa Rican's during the semester or academic year. The summer program revolves around intensive Spanish Language. Sign up with ISA and begin the trip of a lifetime today!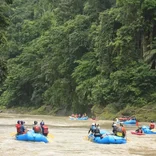 The Universidad Latina - Heredia is a highly regarded private university and part of the Laureate International Universities network. The campus is interspersed with sun-lit courtyards, green spaces and quiet tropical gardens. Founded in 1985 as the Universidad Internacional de Costa Rica, the school's undergraduate and graduate programs are also fully accredited by the Costa Rican Ministry of Education. Today, it offers undergraduate courses in practical sciences, education, and business.
ISA Scholarships and Financial Aid
ISA is committed to increasing all students' access to study abroad's many benefits. We don't let financial hardships to get in the way of a life changing educational experience.