Term
Academic Year, Fall, Spring, Summer
Need-based funding, Merit-based funding, General grants/scholarships
View Other Details

Program Details

University

University College Cork
21 travelers are looking at this program
The Cork program offers students the opportunity to enroll in a range of courses in a variety of disciplines at the University College Cork (UCC), one of the oldest universities in Ireland. Discipline choices include: Archaeology, Biological Sciences, Celtic Civilization, Chemistry, Commerce and Technology, History, Irish Studies, Nursing, Music, Applied Psychology, Applied Social Sciences, Physics, and Law.
Ireland remains a unique country with its own traditions, values, and views of the world. Time in Ireland will challenge you personally, open your eyes to different ways of looking at the current topics in our world, and enable you to experience Irish culture and history.
There are LGBTQIA+ friends, colleagues, and allies throughout the world. However, cultural understanding of gender identity and sexuality does vary from country to country. USAC has compiled a lot of resources to help you through that learning process.
USAC is dedicated to working closely with students with disabilities to ensure the best study abroad experience possible. You may request reasonable accommodations after your initial application is complete. We routinely receive requests for scheduling, material, and environmental accommodations for the classroom setting, which may include assistive technology, scribes and readers, printed material, and interpretation.
Environmentally-conscious students choose USAC because many of our programs are held in some of the most sustainable countries in the world. There are options to take coursework in sustainability and the environment, as well as field trips and studies where students can leave a lasting impact on their host country.
Program Highlights
Live in Cork City—one of the Lonely Planet World's Top 10 Cities to Visit—whose identity is balanced between its charming historical heritage and modern cosmopolitan energy
Study at Ireland's leading university and benefit from an innovative, research-led curriculum taught by world-class academics
Explore the Skellig Region and Ring of Kerry in the included Heritage Weekend field trip
Enjoy a state-of-the-art sports complex with facilities including: swimming pools, saunas, steam rooms, gyms, rugby, soccer and hockey pitches, tennis courts, running tracks, and cafés
About University College Cork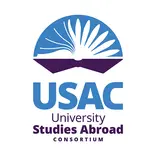 USAC Scholarships and Financial Aid
USAC awards over $2 million in scholarships and discounts each year to assist students with their study abroad expenses.