USAC is a non-profit consortium of U.S. universities that collaborates to offer affordable, academic and authentic study abroad programs. There are abundant opportunities to immerse in the culture, history, and academics of other countries providing an unforgettable experience. Each program is designed to help you grow into an engaged citizen of the world—not only through academic experiences, but also through field trips, internships, volunteering, and service learning.
Students can choose from programs in over 50 cities across more than 25 countries, including Africa, Asia, Australia, Europe, Latin America, and Oceania. Students can enroll to study abroad with USAC for summer, semester, an entire academic year, or winter session.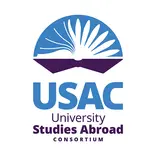 USAC Scholarships and Financial Aid
USAC awards over $2 million in scholarships and discounts each year to assist students with their study abroad expenses.
There are LGBTQIA+ friends, colleagues, and allies throughout the world. However, cultural understanding of gender identity and sexuality does vary from country to country. USAC has compiled a lot of resources to help you through that learning process.
USAC is dedicated to working closely with students with disabilities to ensure the best study abroad experience possible. You may request reasonable accommodations after your initial application is complete. We routinely receive requests for scheduling, material, and environmental accommodations for the classroom setting, which may include assistive technology, scribes and readers, printed material, and interpretation.
Environmentally-conscious students choose USAC because many of our programs are held in some of the most sustainable countries in the world. There are options to take coursework in sustainability and the environment, as well as field trips and studies where students can leave a lasting impact on their host country.
Alumni Interviews
These are in-depth Q&A sessions with verified alumni.
Staff Interviews
These are in-depth Q&A sessions with program leaders.