SFS Study Abroad: Wildlife & Conservation in Kenya
Location
Multiple Locations
+2
Term
Fall, J-Term, Short Term, Spring, Summer, Winter
View Other Details

Program Details

Degree Level

Associates

Bachelors

Pricing

Price Details

Program fees include tuition, housing, daily meals, field excursions, entrance fees, cultural activities, advising services, airport transfers, 24/7 mental health and well-being support, official transcript processing and more – check out our website. Need-based scholarships available.

What's Included

Accommodation

Activities

Airport Transfers

Classes

Meals

Transportation

Wifi

What's Included (Extra)

No Application Fee!

What's Not Included

Airfare

Travel Insurance

Visa
3 travelers are looking at this program
SFS offers some of the best (and most adventurous!) hands-on study abroad programs. Our programs in Kenya explore pressing environmental issues such as climate change, wildlife and natural resource management, and biodiversity conservation. Students learn through outdoor lectures, hands-on field exercises, and activities with community members and area NGOs.
Students have a striking view of Mt. Kilimanjaro from our campus based in Kenya's Rift Valley. The area is surrounded by diverse habitats from grassy savanna to lakes and swamps to mountain highlands, and makes the perfect background to study species such as elephants, lions, hippos, and giraffes, to name a few.
Click on the Visit Site button above to learn more about studying abroad in Kenya with SFS!
Program Highlights
Earn academic credit: 18 credits for semester programs, 3 credits for winter programs, and 4-8 credits for summer programs.
Conduct a 4-credit research project during the semester program. Topics may include wildlife management, climate change resilience, primate behavior, water conservation, national parks management, community conservation.
Observe wildlife behavior firsthand during safari drives in Amboseli National Park, Chyulu Hills, and Tsavo West. How many species do you think you can you spot?
Learn how to speak some Swahili, a language used across much of eastern Africa. Take part in a homestay or day visit with a local Maasai family and learn about their culture, history, daily life, and relationship with nature.
Spend two weeks in Tanzania with visits to Serengeti National Park, Tarangire and Lake Manyara National Parks, and the Ngorongoro Conservation Area. (Semester and Summer I only)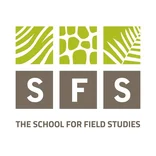 The School for Field Studies Scholarships
SFS works closely with your home school to help you fund your SFS program. Many applicants receive aid through their home institutions or other outside sources, so check with your financial aid office to see what aid may apply to an SFS program.