CIEE Communications, Business + Political Economy in Taipei, Taiwan
Term
Academic Year, Fall, Spring
View Other Details

Pricing

Price Details

The program fee includes:

- Tuition and housing

- Pre-departure advising and optional on-site airport meet and greet

- Full-time program leadership and support

- Field trips and cultural activities

- CIEE iNext travel card which provides insurance and other travel benefits

CIEE also offers a wide variety of scholarships for participants; see website for details.

What's Included

Some Accommodation

Activities

Classes

Travel Insurance

What's Not Included

Some Accommodation

Airfare

Domestic Airfare

Airport Transfers

Meals

What's Not Included (Extra)

Academic Year Student Housing: Housing between fall and spring semesters is not covered by the fee, and students must find and pay for accommodations during this break. CIEE staff can help identify options.
0 travelers are looking at this program
In Taipei, Chinese culture is embroidered with the threads of Japanese, southeast Asian, and U.S. influence. Spend the semester immersed in this unique environment to explore business, media, and politics – and ways in which they're intertwined. Select from an impressive list of courses across a range of academic areas at CIEE Taipei and our partner school, National Chengchi University (NCCU), while immersing yourself in the rich culture of Taipei – where diversity is embraced, and the community is warm and welcoming. Options for internships are also available for students who want to gain real-world work experience at a local company. All courses are complemented with CIEE co-curricular activities and excursions beyond the city to enhance classroom learning and provide intercultural understanding.
Program Highlights
Get an edge with the advanced curriculum and outstanding facilities of the international master's programs in International Communication Studies and Asia Pacific Studies.
Build your resume with an internship at a Taipei media company.
Gain the upper hand on Chinese language with custom classes and support from peer partner.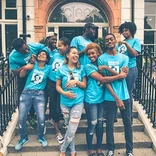 CIEE Scholarships and Grants
CIEE's need-based grants offer support to students who face financial barriers to studying abroad. CIEE awards need-based grants based on students' EFCs and program selection. The Gilman Go Global Grant offers students $750-$2,000 toward airfare, plus $2,500 toward semester program costs, or $1,000 toward summer program costs.