Volunteer in the Galapagos with IOI
View Other Details

Program Details

Housing

Guesthouse

Host Family

Groups

Small Group (1-15)

Medium Group (16-30)

Travel Type

Family

Older Travelers

Solo

Women

Pricing

Price Details

What's Included?

Cost includes full room and board, permits, Transient visa, local coordination and training at respective facility, local transport, full access to our facilities, National Park certificates, etc. — everything minus personal expenses, travel insurance, and your airfare to Galapagos.

Where does the money go?

100% of your contribution is used to sustain your volunteer project, 0% is used to sustain the organization's overhead.

*To safeguard our host local community, staff and other participants, IOI requires all participants to be fully vaccinated within the past 12 months. If by your project start date it will have been 12 months since your full-scheme vaccination, you will need to show proof of a COVID booster.*

What's Included

Accommodation

Airport Transfers

Equipment

Meals

Visa

Wifi

What's Not Included

Airfare

Domestic Airfare

Travel Insurance
38 travelers are looking at this program
Intercultural Outreach Initiative (IOI) is located on Isabela Island, in the Galapagos Islands, Ecuador. Founded in 2006, IOI's vision is to help establish an ecologically sustainable and socially stable local economy in the Galapagos by supporting education, conservation and social development. We have made some incredibly positive and impactful contributions to the local community and we are able to continue doing so with the help and support of volunteers that want to make a real difference.
At IOI Galapagos we have 6 different volunteer positions available:
1. Ecotourism Volunteer (Galapagos National Park)
2. Community English Education Volunteer
3. Giant Tortoise Breeding Center Volunteer
4. Turtle Nest Monitoring Volunteer
5. Sustainable Agriculture Volunteer
6. Social Media Volunteer
Program Highlights
Galapagos Islands.
Conservation.
Service Learning.
Full immersion.
Cultural knowledge.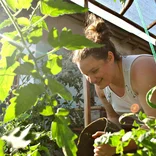 The farms of Isabela Island are starting work in greenhouses to optimize production year-round in a sustainable and environmentally friendly way. The highland town of Tomás de Berlanga is about 10 miles uphill from the coastal part of town, on the side of Volcano Sierra Negra, the highlands are fertile, lush lands with rich volcanic soil - perfect for agriculture! Volunteers will learn local techniques for sustainable tropical agriculture and will help to create food sovereignty.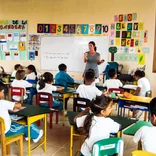 As the Community English Education Volunteer, you will have the opportunity to work with students, teachers, government workers, and community members. In this program you will have the choice between formal and applied teaching opportunities.