Youth Empowerment and Microenterprises in Ecuador
View Other Details

Pricing

Price Details

Financial assistance is available. Program fee includes all in-country expenses like lodging, food, private transportation, COVID-19 tests, PPE, entrance fees, etc.

What's Included

Accommodation

Activities

Meals

Transportation

What's Not Included

Airfare
5 travelers are looking at this program
Learn about the world by living in it! Since 1965, AMIGOS has provided the safest, most authentic service and immersion experiences in Latin America. Living and working in a new community gives you the chance to improve your Spanish, make an impact, gain confidence, and build leadership skills. You'll get to see the world in a truly unique way!
Join our programs in Ecuador to experience the unique cultures in this South American nation. From the Andes to the Amazon and the coast, Ecuador has incredible geographic and biological diversity. Choose the program that fits your interests!
Program Highlights
Go beyond travel and become part of a new community
Make real friendships that last a lifetime
Support community initiatives through ethical service, earning 48 service hours
Improve your Spanish through authentic cultural immersion
Live with a host family and get into the rhythm of daily life in your host community
Support community organizations and meet local farmers and advocates. Explore Ecuador while focusing on the AMIGOS program pillars of ethical service, cultural humility, and leadership.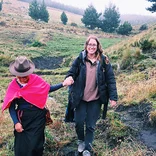 High in the Andes mountains, immerse yourself in rural Ecuadorian life. During your time living with a host family, you might learn to harvest potatoes alongside your host dad or help your host sister milk the family's cows. Throughout the summer, you'll work with Ecuadorian students on entrepreneurial projects. You will travel to regional workshops, build your business savvy, and work on sustainable, youth-led microenterprises.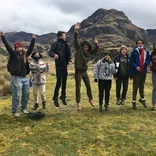 How does the popularity of superfoods impact resources, water, and food sovereignty in Andean communities? Travel to the highlands of Ecuador to find out! Through visits to farms, communities, and national parks, experience Ecuadorian agricultural practices and learn about the connection between rural and urban areas via food production. Hear from community members and learn about cosmovisión, the way in which the indigenous culture understands the world.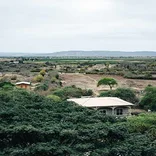 Venture into rural, coastal communities throughout the beautiful province of Santa Elena, Ecuador while volunteering and living with a host family! Earn 48 service hours while supporting local initiatives to empower youth through collaborating on service projects. Truly immerse yourself in the vibrant culture of Ecuador's Pacific coast by getting into the day-to-day rhythm of life in your host community.
At least two years of high school Spanish (or the equivalent) are required.