Climate Change and Indigenous Rights in Ecuador
View Other Details

Program Details

Groups

Small Group (1-15)

Medium Group (16-30)

Pricing

Price Details

Financial assistance is available. Program fee includes all in-country expenses like lodging, food, private transportation, COVID-19 tests, PPE, entrance fees, etc.

What's Included

Accommodation

Activities

Meals

Transportation

What's Not Included

Airfare
3 travelers are looking at this program
Learn about the world by living in it! Since 1965, AMIGOS has provided the safest, most authentic service and immersion experiences in Latin America. Living and working in a new community gives you the chance to improve your Spanish, make an impact, gain confidence, and build leadership skills. You'll get to see the world in a truly unique way!
Join our programs in Ecuador to experience the unique cultures in this South American nation. From the Andes to the Amazon and the coast, Ecuador has an incredible geographic and biological diversity. Choose the program that fits your interests!
Program Highlights
Go beyond travel and become part of a new community
Make real friendships that last a lifetime
Support community initiatives through ethical service
Improve your Spanish through authentic cultural immersion
Health and Safety - adhere to enhanced health and safety protocols, including COVID-19 testing and a Health and Wellness Coordinator on staff
Support community organizations and meet local farmers and advocates. Explore Ecuador while focusing on the AMIGOS program pillars of ethical service, cultural humility, and leadership.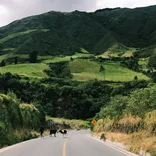 How does the popularity of superfoods impact resources, water, and food sovereignty in Andean communities? Travel to the highlands of Ecuador to explore food security and justice in rural indigenous farming communities. Meet local leaders, food producers, and youth making an impact on food systems in the region. Two spots on this program are reserved for students from Ecuador!
At least two years of high school Spanish (or equivalent) is required. You might even learn some Kichwa!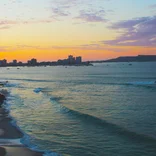 How can we mitigate the effects of climate change? Volunteer with local organizations restoring ecosystems and promoting sustainable agriculture and food production on Ecuador's Pacific Coast. Explore stunning beaches, rocky shorelines, and coastal forests- you may even get lucky and spot a humpback whale!
You'll get to practice Spanish on this program! At least two years of high school Spanish (or the equivalent) are required.