Volunteer Abroad in Nepal with United Planet for 1-52 Weeks
View Other Details

Program Details

Timeframe

Spring Break

Summer

Winter

Year Round

Housing

Guesthouse

Host Family

Hostel

Hotel

Groups

Small Group (1-15)

Medium Group (16-30)

Large Group (31+)

Travel Type

Older Travelers

Pricing

Price Details

* Host Family or Guest House accommodations

* Devoted support from the United Planet team

* Travel insurance

* Pre-departure training

* Transfers to and from airport in Kathmandu

* Orientation, mid-Quest check-in, final evaluation

* Historical, cultural and recreational excursions

* Global Caring Award upon successful Quest completion

* United Planet t-shirt or hoodie sweatshirt

What's Included

Accommodation

Activities

Airport Transfers

Meals

Travel Insurance
21 travelers are looking at this program
United Planet's Volunteer Abroad program gives you or your group a chance to impact local communities through tailored work experiences, cultural immersion and home stays. The program is available in over 25 countries and can last from 1-52 weeks.
Join United Planet in Nepal for a transformative experience. The country is renowned for its scenic beauty and rich culture, and the program offers various volunteering opportunities in capital city Kathmandu. Engage in meaningful work while fully immersing yourself in the captivating culture of Nepal.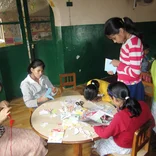 Volunteers have the opportunity to care for children at a shelter, teach English in private schools, or work with women and children at a counseling center for those who have been victims of abuse.
United Planet Service Scholarships
Several scholarships are available for those looking to volunteer for a short or long-term period abroad with the non-profit organization United Planet, who work with communities in over 35 countries around the world.