CIEE High School Study Abroad in China
View Other Details

Pricing

Price Details

You get more for every dollar when you study abroad with CIEE! Our high-quality programs include tuition, housing, on-site airport pick-up, field trips and cultural activities, 24/7 on-site professional staff, and automatic iNext insurance.

Scholarship opportunities are available for high school summer programs.

There are no hidden charges or surprises when you arrive!

What's Included

Accommodation

Some Activities

Travel Insurance
2 travelers are looking at this program
Discover the fast-paced global hub known for its futuristic skyscrapers and fascinating mix of multicultural influences. CIEE Shanghai offers two very different programs which will allow you to advance your Mandarin language skills or cultivate your entrepreneurial spirit.
Both programs are located in the heart of this metropolis where you can see historic temples, town markets, and massive skyscrapers! Aside from the amazing view, you will have the ability to dine on fan favorites like stir-fried noodles or baozi, window-shop in chic fashion districts that rival those in Paris, and engage in once in a lifetime activities.
Program Highlights
Go on a guided walking tour of Old Shanghai and the ultra-modern Pudong New Area
Use your hands to practice Chinese calligraphy as well as making traditional dumplings
Gain a certificate of learning to use in your resume·
Take in the natural beauty of Hangzhou where you can climb a 7 story pagoda and learn about the deep history of the area·
24/7 Support from your CIEE program leader and in-country CIEE staff members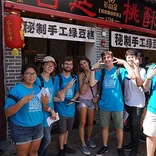 Join us this summer in Shanghai,China! Develop your Mandarin language skills on a 4-week Chinese language program complete with a homestay and daily classes and cultural activities. Or develop your business acumen on a 3-week Global Entrepreneurship program. Enjoy a full immersion in chinese culture and Shanghai's bustling energy!