CIEE High School Study Abroad in Spain
Location
Spain

Barcelona
Madrid
Seville
Palma de Mallorca
View Other Details

Program Details

Timeframe

Academic Year

Fall

Spring

Summer

Pricing

Price Details

Get more for every dollar when you study abroad with CIEE! High School Summer, Semester and Gap programs include Classes, Housing, 3 Meals/Day, Cultural Activities and Excursions, Comprehensive Medical and Travel Protection and 24/7 On-site Support.

There are no hidden charges or surprises when you arrive!

Scholarship opportunities are available for high school summer programs.

What's Included

Accommodation

Some Activities

Travel Insurance
22 travelers are looking at this program
Perfect your flamenco moves in Seville, live like a Spaniard in Madrid, relax at the beach in Barcelona, or explore the biodiversity of the Mediterranean Sea in Mallorca. Spain will amaze you with its culture, historic landmarks, delicious food and amazing lifestyle. CIEE High School Summer Abroad programs improve your Spanish skills, whether you're a beginner or more advanced Spanish learner.
Scholarship opportunities are available for summer abroad in Spain!
CIEE offers you a chance to experience Spain for longer too through the High School Semester Abroad program and Gap year abroad program!
Program Highlights
Native teachers, expert instructors and reputable, well-established public or private high schools
Credentials for your college applications and résumé
24/7 support from CIEE program leader and in-country CIEE staff members
Join us in Spain this summer! Grow your Spanish skills in a 4-week immersion program in Madrid, Barcelona or Seville, complete with a homestay and daily classes and cultural activities. Embark on a Marine Science adventure in the magical island of Palma de Mallorca. Enjoy all Spain has to offer from world-class gastronomy to historical sites and natural wonders.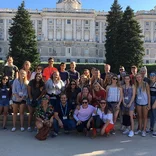 Spend a semester or a year in Spain and hone in your Spanish language skills! Placed in a local high school and homestay, you'll live the everyday life of a Spanish teen and get to discover the country through weekend aways with your hosts or organized group excursions with other CIEE students.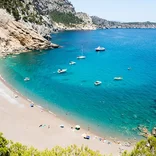 Perfect your Spanish skills and flamenco dance moves in sunny Seville! Combine language classes with cultural activities and excursions with other CIEE students for a gap experience to remember!