CIEE High School Study Abroad in Morocco
View Other Details

Pricing

Price Details

You get more for every dollar when you study abroad with CIEE! Our high-quality programs include tuition, housing, on-site airport pick-up, field trips and cultural activities, 24/7 on-site professional staff, and automatic iNext insurance.

Scholarship opportunities are available for high school summer programs.

There are no hidden charges or surprises when you arrive!

What's Included

Accommodation

Some Activities

Travel Insurance
0 travelers are looking at this program
Channel your inner Indiana Jones as you hike to remote pre-Arab villages, explore natural caves, kayak on Morocco's largest river or ride a camel. Definitely one of the hidden gems, you will marvel at snake charmers and artisan crafts in Marrakesh's bustling Jemaa el-Fnaa square, attend an interactive session with locals in the winding souks of the old medina, and visit the village of Ourika for hiking. Whether you decide to go to Rabat or Mohammedia, you will discover a kaleidoscope of cultures while living, serving, and mentoring in a friendly Moroccan community.
Living with a homestay family, you'll get a warm welcome and a rare glimpse of Moroccan traditions. Together you'll shop, prepare meals, and gather around the family table. In your free time, you can dabble in Moroccan pottery and play soccer, ping pong, or volleyball at the city beach.
Program Highlights
Get glammed up for a Moroccan party with traditional dress, dance, and henna art.
Visit the Hassan II Mosque, one of the tallest minarets in the world and the only mosque in Morocco open to visitors
Gain a certificate of learning in to use in your resume
Rock the Kasbah L'Oudaya, tour the Museum of Modern Art and Archaeology, visit the old medina, Roman ruins and Chellah Gardens overlooking the ancient royal cemetery
24/7 Support from your CIEE program leader and in-country CIEE staff members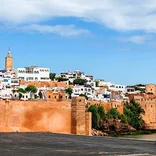 Join us this summer in Morocco! Grow your arabic skills on a 4-week immersion program in Rabatm complete with a homestay and daily classes and cultural activities. Or develop your leadership skills on our 3-week programs on "Leadership Through Outdoor Education" and "Mentoring Youth and Raising Social Awareness". Live to the beat of Moroccan life for an unforgettable summer.