CIEE High School Study Abroad in South Korea
View Other Details

Pricing

Price Details

You get more for every dollar when you study abroad with CIEE! Our high-quality programs include tuition, housing, on-site airport pick-up, field trips and cultural activities, 24/7 on-site professional staff, and automatic iNext insurance.

Scholarship opportunities are available for high school summer programs.

There are no hidden charges or surprises when you arrive!

What's Included

Accommodation

Some Activities

Travel Insurance
9 travelers are looking at this program
Take a trip to this "city that never sleeps" and discover the hype behind the Kpop Phenomenon or explore Korea's gaming industry. No matter which topic picks your interest, you will be sure to fall in love with the food, culture, and people of this Asian peninsula.
Seoul is a very special city, embracing both traditional and modern ways of life. You will find Buddhist temples within short distances from extreme skyscrapers surrounded by neon lit entertainment, 24/7. Parks, shopping, and street food are abundant, but some of the most exciting entertainment you will see are the buskers singing and dancing in the streets. Get excited to expand your knowledge on Korea while drinking Sikhye, chowing down on your favorite K-food paired with a number of sides, and listening to the sounds of the city.
Program Highlights
Take dance and cooking classes with Korean peers
Get a 360-degree panoramic view of the city from the N Seoul Tower's digital observatory on Mt. Namsan
Gain a certificate of learning in to use in your resume
Spend a relaxing day on Nami Island, an eco-friendly development and popular film site with walking and biking trails
24/7 Support from your CIEE program leader and in-country CIEE staff members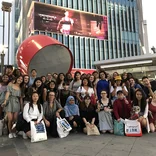 Join us in Seoul, South Korea for a summer to remember! Live a 3-week K-Pop immersion to go behind the scenes of this cultural phenomenon! Or explore the fascinating world of gaming and e-sports as you meet pro teams and plan an Overwatch SCRIM event at the world famous Gen-G Seoul HQ!