Projects Abroad High School Internships in Tanzania
View Other Details

Program Details

Housing

Dormitory

Host Family

Pricing

Price Details

Prices vary depending on the project and number of weeks

Visit website for more details on costs

What's Included

Accommodation

Activities

Airport Transfers

Meals

Transportation

What's Not Included

Airfare

Travel Insurance

Visa
13 travelers are looking at this program
With over 30 years of experience in organizing safe and meaningful trips for young people under 18, Projects Abroad offer exciting projects for 2, 3 or 4 weeks and involve teens in issues like public health and Medicine in Tanzania. You will have the opportunity to get a first-hand look at the work medical professionals do on a daily basis, educate children about health issues, and even provide much-needed basic health care to rural communities surrounding Arusha.
Alternatively you can Immerse yourself in traditional Tanzanian culture as you care for the community through volunteer work involving Early Childhood Development support or building and renovating classrooms and school to provide a more stimulating learning environment.
Follow the link below to visit our website and learn more.
Program Highlights
Work closely with the Masaai Tribe and experience their traditional way of life
Take part in socials that spark new friendships and ensure you have fun
Receive 24/7 support from our trained supervisors
Live with a friendly host family or at local accommodation with a supervisor
Explore a new country and culture through organized activities and a weekend trip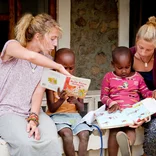 Provide Early Childhood Development support at understaffed care centers and kindergartens in and around Arusha, Tanzania. Help children learn through fun games, songs, lessons, and individualized attention while supporting local educators.