Medical and Health internships in Guatemala
View Other Details

Program Details

Qualifications

Medical or nursing related studies

Pricing

Price Details

2 weeks $469

3 weeks $624

4 weeks $857

5 weeks $1004

6 weeks $1152

7 weeks $1300

8 weeks $1589

A registration fee of US$200 is applied to your program upon booking

What's Included

Accommodation

Airport Transfers

Some Meals

What's Included (Extra)

Accommodation:
Host family in a private room with two meals per day
Dorms: In shared accommodation+$4 per night.
24/7 in-country support
Orientation to
Airport pickup
Certificate of program completion.

What's Not Included

Activities

Airfare

SIM cards

Travel Insurance

Visa
0 travelers are looking at this program
Low-income communities have very limited access to good health services, and this is where this program comes in. We partner with rural clinics that provide free or very accessible services where interns can work with local doctors and nurses. Depending on the intern's experience in the medical and health field, the level of responsibility and involvement will vary.
What could I be doing?
- Conducting health and hygiene workshops in rural schools.
- Helping doctors by measuring patients' vital signs.
- Shadowing doctors in procedures.
- Organizing the clinic's pharmacy.
- Patient diagnosis assistance.
- Participating in medical outreach campaigns in villages (if one overlaps with your service time)
- Teaching indigenous families in rural areas about basic health measures and nutrition.
Program Highlights
Shadow doctos and nurses
Meet other interns from around the world
Work under real life situations
Get clinical experience and mentoring
Help low income communities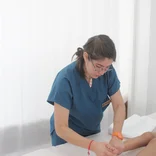 The physiotherapy program is for people with a background in physiotherapy,
rehabilitation or occupational therapy. Volunteers in this program can assist one of
our partner clinics where many patients are treated from a diverse array of
conditions. Some patients are able to come to the clinic, but some are unable, so
volunteers will also go on house visits along with staff from the clinic.