View Other Details

Pricing

What's Included

Accommodation

Activities

Airport Transfers

Meals

Transportation

What's Not Included

Airfare

Travel Insurance

Visa
0 travelers are looking at this program
Madagascar, an amazing island in the Indian Ocean, beckons you for an internship like no other. With over 1,600 kilometers of coastline, lush rainforests and unique wildlife, it's a nature lover's paradise. Madagascar's 88 million years of isolation have shaped a rich ecosystem of extraordinary species. Your internship? It's your chance to be part of this thriving environment.
As an intern, you won't be confined to an office. Dive into two exciting realms: community development and wildlife conservation. Teach local children, support women's empowerment or explore the wild side – collecting data on endangered species like lemurs, chameleons and sea turtles. It's hands-on learning with a real impact.
When the day's work is done, get ready for some well-deserved fun! Whether you're stargazing on the beach, savoring local cuisine or bonding with fellow interns around a bonfire, Madagascar offers unforgettable moments beyond your internship.
Program Highlights
Join a world-class team studying rare and endangered species like lemurs, chameleons and turtles, contributing to impactful, published research.
Immerse yourself in three unique ecosystems – rainforest, ocean and tropical coast – all in one location, surrounded by awe-inspiring biodiversity.
Gain practical skills and experience through diverse conservation fieldwork projects, honing your expertise in the field.
Support scientists in groundbreaking research that addresses critical environmental issues, making a real difference in conservation.
Live and work in a remote research station, connecting with protected species and unique ecosystems while advancing your career and leaving a lasting impact on conservation.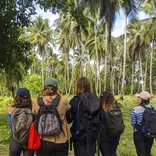 Embark on a unique conservation internship in Madagascar, protecting endangered species like the Nosy Be mouse lemur and panther chameleon. Contribute to cutting-edge research, lead biodiversity surveys and engage in vital projects. This hands-on experience offers leadership training, recognized qualifications and boosts your CV.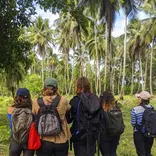 This unique internship not only hones your teaching skills, including TEFL techniques and student engagement, but also delves into community empowerment, cross-cultural communication and social issues. From structured English classes to hands-on projects like teacher capacity building and leadership training, you'll make a meaningful impact.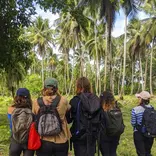 Join our Lokobe apprenticeship for three months of hands-on training and survey species like black lemurs, Hawks' sportive lemurs, panther chameleons and hawksbill turtles. Contribute to ongoing research and develop your skills. Then transition into a three-month placement to publish papers and advance your career with international experience and four recognized qualifications.