View Other Details

Pricing

What's Included

Accommodation

Activities

Airport Transfers

Meals

Transportation

What's Not Included

Airfare

Travel Insurance

Visa

Wifi
28 travelers are looking at this program
If you are looking for practical work experience and professional development in a range of globally driven sustainable development projects, GVI has just what you need. Internship programs include wildlife conservation and field guide courses.
Aside from personal skill development and hands-on experience, you will be contributing to short-, mid- and long-term objectives for each project, aligned with the 17 UN Sustainable Development Goals.
Experience a highly diverse country that represents numerous cultures, subcultures, 11 official languages, and several more sublanguages. It's a land with impressive natural landscapes, wildlife, flora and fauna, and rightfully holds eight UNESCO World Heritage Sites.
Program Highlights
Immerse yourself in the vibrant blend of urban life and wildlife reserves that define South Africa.
Develop a range of skills that will enhance your CV and contribute towards future job opportunities.
Develop cultural appreciation and meet like-minded people from around the world.
Contribute actively to the UN Sustainable Development Goals.
Develop your global citizenship with immersive experiences.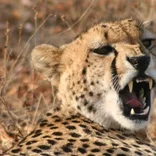 Live and work on a private nature reserve near Kruger National Park. Here you'll work on conservation projects with leading local and international conservation organisations. Spend your days tracking animals in the reserve, recording and analysing data, and learning important conservation skills.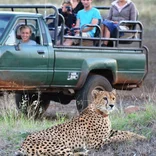 Gain practical conservation working with big cats and contributing to the collection of valuable wildlife research on a private reserve. Here you'll learn how to identify mammals and reptiles, while conducting biological surveys and tracking the local wildlife – specifically lions, cheetahs and leopards – using radio telemetry techniques.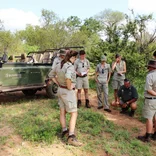 Join our six-month wildlife conservation internship in South Africa. Learn techniques used by private wildlife reserves and international organisations to conduct wildlife research such as radio telemetry tracking. Then put your new skills into practice with a three-month work placement at a South African conservation organisation or an ecotourism lodge.