View Other Details

Program Details

Groups

Small Group (1-15)

Medium Group (16-30)

Travel Type

Older Travelers

Solo

Women

Pricing

What's Included

Accommodation

Activities

Airport Transfers

Meals

Transportation

What's Not Included

Accommodation

Airfare

Travel Insurance

Visa

Wifi
99 travelers are looking at this program
South Africa is often referred to as the Rainbow Nation because of the numerous cultures and languages represented in this diverse country. It's a land with impressive wildlife, tasty food, and varied and breathtaking landscapes from the savannahs of the Kruger to the white sand beaches and impressive mountains of Cape Town.
By volunteering with GVI in South Africa, you can get involved in meaningful projects that support wildlife conservation in South Africa. Your support impacts the sustainable development objectives of each project, and works according to the UN Sustainable Development Goals.
In your free time, experience wildlife safaris and breathtaking sunsets in the bush, travel to the famous Kruger National Park, explore the Panorama Route and enjoy South Africa's diverse foodie scene.
Program Highlights
Support global sustainable efforts that contribute towards the long-term objectives of each program.
Be surrounded by South African wildlife, world heritage sites, and natural wonders.
Live and travel in South Africa, connecting with the local community and other international volunteers.
Become a world citizen as you learn about different cultures, lifestyles, local cuisines, and traditions.
Improve your CV by adding skills in wildlife conservation, teaching, health and education, and community development.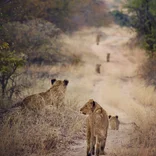 Live on a private reserve in Limpopo, experiencing the surrounding wildlife in its natural habitat, all while contributing towards meaningful conservation and research efforts for wildlife protection. Learn about biodiversity and habitat monitoring, and how to track and identify each species.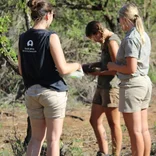 Track elephants, buffalo and rhino while actively contributing to wildlife conservation. Live in the South African bush with fellow participants and engage in vital research initiatives. This isn't just a safari; it's a life-changing experience that makes a real impact.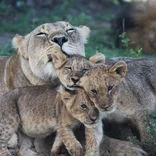 Work with our international team studying big cats. Learn to track and record lions and leopards, understand their interactions, and assess prey choices. Contribute to vital conservation efforts and gain hands-on experience in preserving ecosystems.