View Other Details

Program Details

Timeframe

Fall

Spring

Summer

Qualifications

Students need to have a GPA of at least 2.5 to participate in the program. Certain eligibility restrictions may apply and CIEE will advise as part of the early application process.
Students must be currently enrolled in an Associate, Bachelor, or Master program and have completed a minimum of their first academic year of studies before the program.
Participants are required to have access to a laptop/computer with audio capabilities. Participants are required to have reliable access to internet/WiFi.

Pricing

Price Details

YOUR FEE INCLUDES:

-Internship placement

-Pre-internship coaching and open-office hours

-Advising before you begin to set goals and answer questions

-On-program workshops and coaching sessions

-Skills assessment

-Mid-point check and final program evaluation

-High-quality certificate of achievement
3 travelers are looking at this program
Now more than ever, it is critical to enhance your cross-cultural and virtual communication skills, gain real-world work experience, and make your resume stand out in a competitive global job market. CIEE Virtual Global Internships are designed to be flexible, online, and immersive: hard and soft skill acquisition on your schedule, wherever you are.
Students seeking up to six academic credits for their virtual internship can now enroll in our Virtual Global Internship with Course option, which includes our online internship course, 'Academic Internship in the Global Workplace'.
Paired with the virtual internship, this course allows students to cultivate essential skills such as project management, teamwork, and intercultural communication, while developing an individual e-portfolio of skills and experiences for future career success.
Program Highlights
Grow your global network from anywhere in the world
Gain real-life, project-based experience with global companies and start-ups
Obtain a digital Certificate of Completion to post to your social and professional networks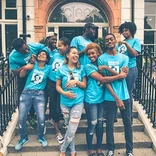 CIEE Scholarships and Grants
CIEE's need-based grants offer support to students who face financial barriers to studying abroad. CIEE awards need-based grants based on students' EFCs and program selection. The Gilman Go Global Grant offers students $750-$2,000 toward airfare, plus $2,500 toward semester program costs, or $1,000 toward summer program costs.