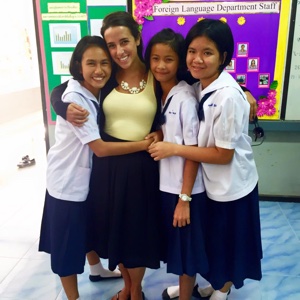 Why did you pick this program?
I researched so many programs before choosing TEFL Heaven. I was actually about to submit my deposit for a different agency, when I overheard one of my classmates talking about TEFL Heaven.
I immediately went home and looked them up, and I am so glad I did! Their website was full of amazing alumni reviews and loads of information about the program, which I really appreciated as some of the other agencies websites were very vague. And then I saw the headline "Earn your TEFL Certification on a paradise island", and I was sold! I grew up by the beach, so I have always had a love affair with the sun and the sea.
This program seemed like the perfect opportunity to "kill two birds with one stone", a chance to explore the beautiful islands of Thailand while also training to get my certification.
What do you tell your friends who are thinking about going abroad?
STOP THINKING AND JUST GO! I can remember telling my mom one night over dinner "Mom, I think I'm going to go teach in Thailand." She laughed at me, and said "Yeah, okay sweetie whatever you say!" The next week I sent in my non-refundable deposit. My family was shocked! I was even a little surprised in myself!
But I knew if I spent too much time overthinking and overanalyzing, I might change my mind. The decision to just go for it was one of the best choices I have ever made. Life is too short to waste time thinking too much, sometimes you have to just follow your heart and take a risk. That's when the most beautiful opportunities happen.
What is one piece of advice you'd give to someone going on your program?
Do your research. Read reviews like this! Read the blogs of people who have done the similar thing. They're actually really helpful to see what teaching abroad is really like. Beyond just researching about teaching abroad, you should also research Thailand!
Get a better understanding of their customs and traditions and lifestyle. It will make it easier to transition and not feel such a culture shock when you arrive. And probably most importantly-don't come to teach in Thailand expecting it to be a glorious vacation. If that's what you're looking for- then just go on an actual vacation!
But if you're coming here to teach, take it seriously. These kids need teachers who care about them and their learning, not just people who want to earn a little money to travel. There will be plenty of time off to explore Thailand while you're here, but that should really be your second priority. Your first priority should be your students. You have the power to make such an impact on their futures, don't waste it!
What's your favorite story to tell about your time abroad?
Oh man- I have so many! One of my favorite stories/things about Thailand is how much the Thai's LOVE to see foreigners, or as they call us "farang!" It won't happen as often when you're living on the island doing your training, because it's a touristy area so they are used to seeing foreigners, but when you move to your placement schools, I promise you it will happen almost everyday. My town where I am teaching is in the Northeast region of Thailand, also known as "Isan", where foreigners are far and few between.
Everywhere we go, someone is smiling at us, pointing and yelling "farang!" It makes you feel like a celebrity! In school as well, the kids (especially Matthayom, or high school) treat you like you're famous. They always wave and smile at you, and then when you wave and smile back, they start squealing and clapping, giddy with excitement as if I was like, Taylor Swift or something. It's so sweet.
In relation to this, my favorite time was when I was visiting one of my friends from my TEFL course who was placed in another very small town about 40 minutes away from me. We were walking down the street when we were eagerly flagged down and dragged to a little hotdog stand where we were asked to have our photo taken. We obliged, of course, as we always do.
But the best part was that before taking the photo, the woman handed each of us a long, very questionable looking, bright orange hotdog on a stick to "model" in the picture. It was hilarious! But it's something that honestly happens almost everyday!
What should you pack?
As little as possible!!!! This is one thing I really wish I had been more informed on before coming- what I would need and what I absolutely would not need. I absolutely did not need to bring a bunch of cute dresses and "going out" outfits for weekend outings or trips, because you can buy all of that here! And it's SO cheap!
I also did not need to bring every type of medicine/toiletry known to man i.e. Advil, Advil P.M., Tylenol, Tylenol P.M., Immodium, DayQuill, NightQuill, Vick's Vapor Rub, Pepto, Dramamine, cough drops, bug spray, sunscreen, big bottles of shampoo/conditioner...etc etc. For whatever reason (mostly a lack of research) I had this idea in my head that I wouldn't be able to easily access any of these types of things here- but there is a 7/11 and a pharmacy on every street corner (especially in the touristy areas), and you can pretty much get everything and anything you need there.
What I did need to bring more of was what I like to call "Thailand Appropriate Teacher Clothes". Having been a teacher at home, I had built up a pretty decent wardrobe of clothes I would consider appropriate for school, so naturally I brought all of them with me. But that was a mistake- because what I would consider professional and appropriate to wear at home, doesn't quite cut it here.
A general rule of thumb is that you should only bring skirts/dresses that cover your knee, and only blouses and tops that completely cover your shoulders. I brought a lot of skirts and dresses that just made it to the knee, or shirts that just barely covered my shoulders. Thai's are very conservative and your image is really important as a teacher. The more conservative you dress, the better! And bring flats. Don't bring heels. You won't wear them. And if you do, your feet will hate you.