Why did you decide to get TEFL certified in Thailand?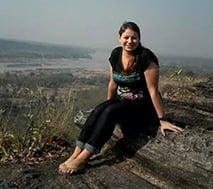 I had thought about teaching abroad on and off since finishing my degree in 2010. Eventually, it was a friend who was teaching in Thailand that made me take the chance. Seeing all the amazing things she was doing really inspired me and when she told me how she got there, it seemed like the easiest decision in the world. She got TEFL certified in Thailand and she recommended it over an online course, which she had taken previously. The course offered lessons on Thai culture and language, and as an inexperienced traveler this really appealed to me. In all honesty, I chose Thailand without much consideration for anywhere else. I had never travelled much beyond Europe and looking back it was definitely a leap of faith.
What made this teach abroad experience unique and special?
My experience has been made special by the people that I have met along the way. The group of trainees that were on my TEFL course quickly became my Thailand family and once I got to my school the other teachers and locals made me feel so welcome.
I taught in rural Thailand and the people there made so much effort to show me around, explain cultural differences and feed me mystery foods. Even the students made me feel at home. Despite having a TEFL under my belt I still needed to find my way in a Thai classroom. The kindness, encouragement, hilarity and sheer cheek that my students brought to lessons helped push me up a steep but necessary learning curve.
How has this experience impacted your future? (personally, professionally, academically etc.)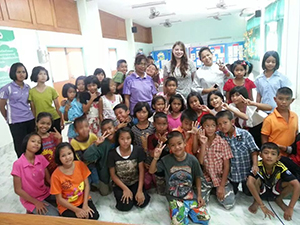 I could never have predicted just how much I would gain from my teaching abroad experience. My confidence improved so much that I went from being too shy to speak in small groups to jumping about in front of 50 kids - brandishing flashcards and drilling pronunciation without a moment's hesitation. I learned that I can think on my feet, be creative, and dance to karaoke on a 12 hour overnight bus.
I learned how to have a conversation when neither person speaks any of the other's language, how to pretend Durian is delicious and, most importantly, I learned that it's ok to have no clue what is going to happen next. Professionally, teaching abroad has opened so many doors for me. The experiences I've had here are priceless and as I look to the future I see many options that I would never have even imagined if I had not taken on this challenge.
What is one piece of advice you would offer someone considering teaching abroad in Thailand?
One piece of advice that I would offer to someone who is considering teaching abroad in Thailand is to keep an open mind and go with the flow. The "Mai Pen Rai" outlook in this corner of the world is based on a laid back, no problem, take it easy attitude. I learned very early on that things change last minute and nothing goes to quite to plan. As a foreigner, or "farang", you need to make yourself flexible to such situations.
This isn't to say that you have to take on the same mind-set; it's just that you need to accept that it is part of the way of life. Take time to make Thai friends and you will gain a better understanding of the culture than you could hope for. Especially for new travelers like me, this kind of knowledge and awareness is a huge part of making your way in Thailand – or any foreign country!