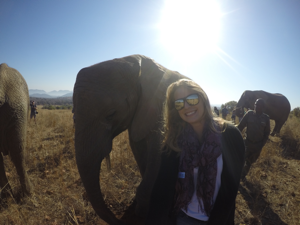 Why did you pick this program?
Since I was little I always wanted to own/ be apart of an orphanage and I knew I would be around kids and go to a couple orphanages for the South Africa trip. South African animals are also my favorite and that was a big factor in my decision as well.
What do you tell your friends who are thinking about going abroad?
I say 100% do it, especially now. We are young, and when you get older it gets harder to travel and you will have more reasons not too. Traveling opens your eyes to different cultures and also teaches you a lot about yourself.
What is one piece of advice you'd give to someone going on your program?
If you are hesitant because its out of the country, or you'll be away from friends or family for a month, or you're worried you won't make friends, just do it anyways. I was so nervous before I got to the airport I felt like I was going to throw up, but I ended up having the most amazing experience with friends I will keep forever.
What's your favorite story to tell about your time abroad?
During the volunteer portion of the trip, there was a little boy around 5 years old who was drawn to me named Milani. I saw him almost everyday and when other kids would come up to play with me too he would shove them a little and say this one phrase. One day I asked an adult local what he was saying (because it was in Xhosa) and they informed me that he was pushing them off me saying "my white person". I thought that was hilarious and cute that he wanted me to himself.
There are cheaper ways to go about certain things. While group flights and the links they provide you for visas are nice for the security of it, if you book your own flight or get your visa at the border it can be significantly cheaper.