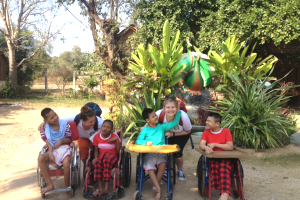 Give us a little intro
I am a nursing undergraduate student from Newcastle University in Australia. I have been a childcare educator for five years and have plenty of experience with children. Doing volunteer work in a children's orphanage has been a dream of mine since I was a little girl.
Why did you pick this program?
I choose this program because I wanted to experience and work in an affordable volunteer agency. International Volunteer HQ seemed like and was the perfect option for me. I volunteered during the summer university break.
What do you tell your friends who are thinking about going abroad?
I tell them to go overseas with an open mind. Learning and exploring new culture is part of your volunteer experience.
What is one piece of advice you'd give to someone going on your program?
I will tell people to be respectful, kind and patient when caring for the children at National Borey for Infants and Children in Phnom Penh. These children are disabled orphans with one or more co-morbidities. The number one priority for the children is to make them feel loved and valued as an individual person.
What's your favorite story to tell about your time abroad?
It was my last week volunteering and myself and the other volunteers had a water play at the centre. Our children loved the pool, splashing and laughing. The children loved the freedom of pool play and this memory is a beautiful one to take home with me.
Any words of wisdom?
Travelers that are looking to volunteer in Phnom Pehn in the near future should read up on the history of Cambodia. Having this knowledge will engage your experience more in Cambodia. Enjoy your experience here and once your finished in Cambodia you will take a piece of it back with you in your heart.