Why did you decide to volunteer abroad with IVHQ in Cambodia?
Hayley: The reason why I chose IVHQ was because personally it was the most affordable two week volunteer program in Cambodia. All the reviews on the IVHQ website were very positive which made me feel comfortable and secure.
Before my trip I did a lot of research as to which country I should travel to... Many people I talked to and many articles I read drew my attention to the friendliness of the Cambodian people, and despite it being a dangerous and poor country, it apparently had so much to offer in terms of the land and its people. I wanted to go to Cambodia to give a helping hand to a country in need that was not too far from home and to immerse myself into the culture of Cambodia, to experience its unique beauty and to escape the sweeping crowds of tourists.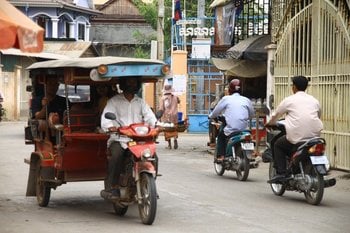 Describe your day to day activities as a volunteer in Cambodia.
Hayley: During my time in Cambodia I volunteered at the orphanage SFODA (Sacrifice Families and Orphans Development Association). During my two week stay I worked from 8am-4pm weekdays teaching, caring and entertaining the children in very poor conditions with minimal facilities. I taught English to a variety of ages for 2-3hrs a day which included reading, writing and speaking basic English. The rest of the day was for playing, reading and craft (giving the coordinators and usual carers time to themselves).
What was a major highlight from your time volunteering in Cambodia?
Hayley: I went to Cambodia with no expectations. I didn't go to Cambodia for a holiday or to enjoy myself but for once be selfless and give my time to the people. The entire trip was just incredible and I think the best part was just being completely immersed in the day to day life of ordinary Cambodians and young orphans. One main highlight was when I was teaching English and asked a little boy named 'Hong' a question. He took a while answering thinking he didn't know the answer, however, when he finally did respond and was correct he was so proud of himself. Just experiencing little moments like this were so rewarding. Encouragement and support can help grow self belief and confidence within a child.
How has this experience impacted your future?
Hayley: This experience has definitely impacted my future. Personally, I grew a lot of self confidence and patience within myself and I've realized that I have the potential to teach children. Cambodians live out the truest form of humanity; they live off basic necessities and in doing so they live out true morals of love, selflessness and unity. None of the orphans I worked with were biologically related, however, they all lived like a family caring for one another, helping each other read and nursing one another.
The Cambodians live so simply and that's why I think they are so content. They never complain, just smile and acknowledge you. Even though my trip to Cambodia was short, it still impacted me in more ways than is easy for me to put down into words. It was definitely the most rewarding experience that I will always remember and hopefully will be able to re-experience in the future.