Why did you decide to volunteer abroad with IVHQ in Cambodia?
Nadine: I had been thinking about volunteering in Asia for over 2 years. Then when I left my stressful Sydney IT job I decided that this was the perfect time to realise that dream. I Googled volunteering in Asia and researched many different agencies. I decided on Cambodia or Vietnam, then I found the IVHQ website and they were offering a Computer Support program in Cambodia. My mind was set, I was excited to have the chance to use the skills I have professionally whilst volunteering. I decided on a 3 week program in Phnom Penh (Siem Reap was also offered).
Describe your day to day activities as a volunteer in Cambodia.
Nadine: I arrived on a Saturday night, absolutely jet lagged. But I got picked up from the airport with no hassles and tuk tuk'ed it to the volunteer house where the staff and current volunteers were very friendly. The room and bed were a good size (sharing with one other, en-suite bathroom). The house is situated in a local area of Phnom Penh (south west), great for experiencing typical Cambodian life in the city. It was about a 10 minute tuk tuk ride to the main tourist area and palace, and only 5 minutes to great shopping at the Russian Market. The food at the house was good, the lunch and dinner stable was rice (of course!) with a meat or veggie broth and dishes of other meats/seafood and vegetables. There was always plenty for everyone.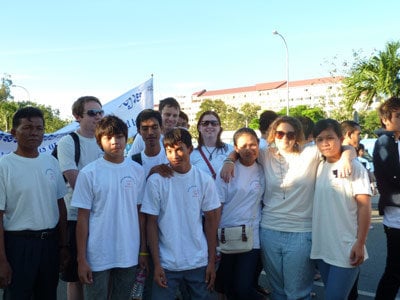 The first day was orientation for all the newbies. We went through language, culture, safety, history etc Then they organised us to go to the S21 museum with tour guide and we visited the Russian market. At night they cooked us a BBQ on the rooftop terrace to welcome us. The new group was quite large (atypical, however it had just come into summer holidays), there were 23 of us made up of the Human Rights program, Orphanage work, Teaching and Computer Support (just me!). My typical day was a bit different to the others. I was asked to create several databases for Cambodia Volunteer Foundation. They only had spreadsheets to collate the info on the staff and volunteers.
So my daily job was to work with the staff collecting the requirements and designing them a way to organise themselves effectively to keep track of staff pay, volunteer info, volunteer placement info. I still had lots of contact with the other volunteers as we had two meals a day with each other as well as nights to do as we please and weekend trips away. We also had the opportunity to join the staff in a march through the city for Human Rights Day.
After volunteering I spent the next month seeing other parts of Cambodia which I also fell in love with, including the famous Angkor temples in Siem Reap and the beautiful beaches in Sihanoukville. Then it was a sad goodbye and I left to continue my travels through Vietnam.
How has this experience impacted your future?
Nadine: The experience has given me the energy and motivation professionally and personally to take a more enthusiastic approach to my life choices. I knew I was born in a lucky position, to have the freedom and the opportunities I have had in life, but to see it so blatantly everywhere I travelled was another thing entirely.
I thoroughly enjoyed the experience and was amazed at the interest all my friends and family took in what I was doing and how many were jealous! I would recommend Cambodian Volunteer Foundation to anyone.