Why did you decide to volunteer abroad with IVHQ in Cambodia?
Tegan: Ever since I was young, I have wanted to volunteer in a Third World country helping underprivileged children. I think the desire came from an episode of Australian Story I saw when I was about 13-years-old. Ever since then I spent countless hours researching the millions of volunteer organisations and programs over the internet. I researched countries and for some reason was always taken back to Cambodia. I think because it was less touristy than other countries in SE Asia, such as Thailand or Vietnam.
It was only the past few years I decided to put my thoughts into action. I am a full time university student and after searching for affordable volunteer programs I came to decide that I really couldn't afford it! I wanted to spend a decent amount of time in the country where I was volunteering and in most of the volunteer organisations I viewed the maximum I could possibly afford was about 2 weeks. Eventually I stumbled upon the IVHQ website. I was shocked initially when I saw the volunteer fees and thought there must have been hidden costs. I emailed the IVHQ staff and they answered all of my questions, so I decided to apply for a 6 week volunteer stint in Phnom Penh, Cambodia. Basically, after wanting to do this for so long, it all came down to finding a recognized and trustworthy volunteer organisation that was affordable for my full time student budget. I still can't believe how little money I spent for the most amazing 6 weeks of my life!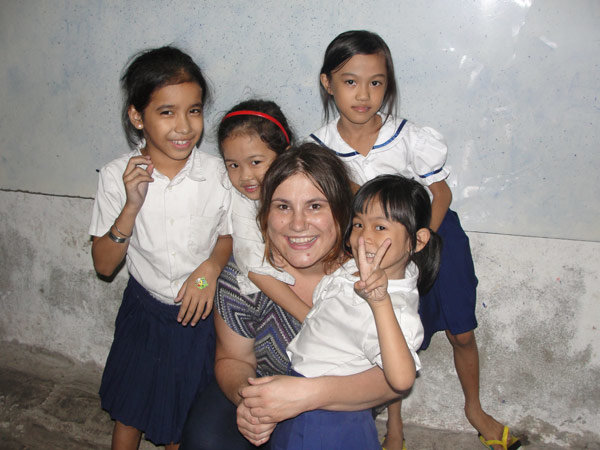 Describe your day to day activities as a volunteer in Cambodia.
Tegan: Each day began at approximately 7am when breakfast was served at a huge table with all of the other volunteers. Each day breakfast consisted of toast and delicious fresh fruit and on occasions we were lucky to receive some cooked treats! After showering, I'd get ready for my day at the school, always dressing in floaty, loose fitting clothing made of very light material to survive the heat (my school had tiny rooms, no windows and no fans or air con, so was very hot). About 7:30am I'd jump on my scooter and drive to my placement. I ended up hiring my own scooter for the 30 minute drive as it worked out a lot cheaper and a little quicker than a tuk tuk. Although the insurance is pretty insane and most travel insurance providers won't pay out for driving vehicles without a license, I decided I was confident in my abilities and would drive slow!
After getting to my placement I'd walk into the kindy room for the morning. Every day I would be greeted by the children standing up and singing a "welcome teacher" song. After the song, the children would swamp me with questions about me, my life and my family back in Australia. Yes, this happened every single day for my whole 6 week placement... they had an endless list of questions. After I had answered most of their questions we would start on our English school work. I was given a 'workbook' and 'studybook' by the Khmer teachers which outlined the content of the children's study. Basically, the work consisted of the children practising their English reading, writing and speaking. Most of the work was dictation which, as a future teacher, seemed quite boring a lot of the time. I would usually mix it up by adding in a few word games, drawing games, etc, which the kids loved!
After three hours of teaching kindy, at 11am the school closes for a two hour lunch break so I would have that time for lunch. Some days I would stay in the relative area of my placement as it was about a 30min drive each way from the volunteer house. There were plenty of places to buy food and drinks around the school. Other days I would drive back to the volunteer house where the volunteer organisation staff would have prepared a delicious lunch for us! Lunch always consisted of either rice or noodles (but mostly rice) with different delicious Asian dishes.
After lunch, if I had time for a quick nap I would make the most of it before heading back to my placement, to start teaching at 1pm. For the three hour afternoon shift I taught the grade 2's. Once again I would be greeted with the sweet "welcome teacher" song. Teaching was basically the same as the kindy class, just at a higher level. The afternoon consisted of more dictation, word games, drawing games and anything that could help the children with their English. If the children had done their work at the end of the lesson, they would be rewarded with a fun game of their choice. They'd usually choose hangman, which is great for their English aswell! After school ends at 4pm, I'd say goodbye to all of the children with lots of hugs and high fives.
I'd be back on my scooter and heading straight back to the volunteer house. There, I'd meet with the other volunteers as they came in from their palcements. We would usually sit around discussing our days and chatting for a few hours. Each night was different; a night at home would be chilling out with the other volunteers on the roof top couches, followed by dinner served at 7, and more chatting and chilling until bed! Some nights we'd all go out for dinner as a group, occasionally inviting the volunteer organization staff to come with us, and all of the volunteers would put in a small amount of money to pay for their meals. Other nights would be spent out at night clubs or party spot, where we would make the most of the cheap cocktails and dance the night away! On school nights I usually tried to plan the activities for the following day. I didn't write anything down, I just thought it up in my head so that I had a good idea of what the day would be like, saving me thinking on the spot at school! Weekends were spent sightseeing and travelling by bus to wonderful destinations all around Cambodia!
How has this experience impacted your future?
Tegan: Academically and professionally it has made a huge impact on my future. As a university student studying a Bachelor of Education, the trip reminded me that I was in my chosen field of study for many reasons. Not only did this trip remind me of my passion for educating children (which endless study sometimes makes me forget), it gave me endless ideas for my future as a qualified teacher. I plan to return to SE Asia in the future and teach English. I have already been searching the rental market and have been offered a paid position by the director of the NGO I volunteered for! So I definitely plan on taking him up on that offer in my future.
Personally, I made some amazing friends in the other volunteers, the Cambodian volunteer staff and the children and teachers I worked with at the school. I have already booked flights back to Cambodia this year to see everyone and see how the children are going with their English! I guess I have always wanted to help underprivileged people but always thought that as one Australian girl I was unable to really make a difference. This trip proved to me that there is a lot that needs to be done, but it also showed me that I can make a difference. As cliche as that statement is, it really is true. I can make a difference and I will make a difference.